Origami Dragon Readers' Photos Page 1
Here are photos of the origami dragon that we've received from readers. You can find more recently submitted photos on
Page 2
.
From Meuyleo "Origami Dragon...My 1st time try'n it, Worked out well =p"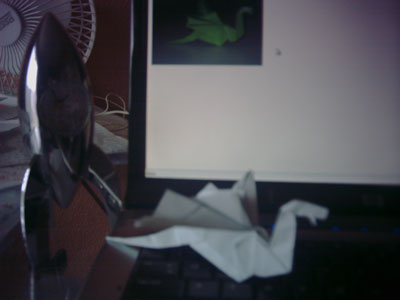 From Ludmila of Prague "Thanks for very detailed instructions. This is my second origami by instructions and I think it is successful."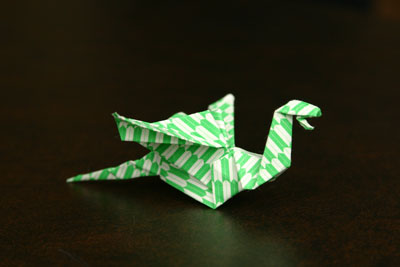 From Nikki in Perkinston: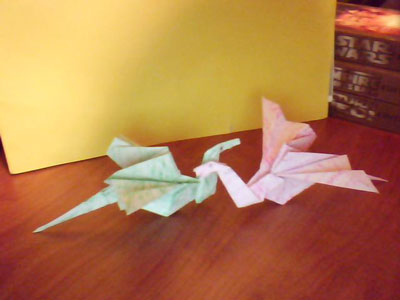 From Louise of Durham " My first attempt at the dragon. I think the end result looks a lot more complex than it actually is!"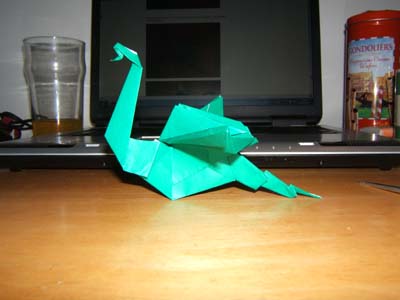 From David in Zoetermeer "Second time I made the dragon. It's not the best photo, but my cell phone can't do any better."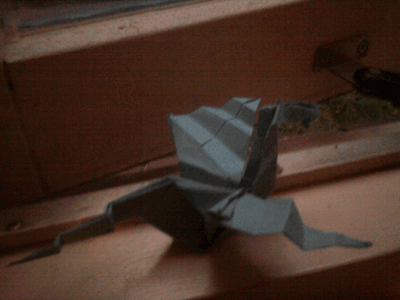 From reader in Skûlenboarch, The Netherlands " My first dragon! I'm very happy about the result, your instructions are awesome. "
Thanks!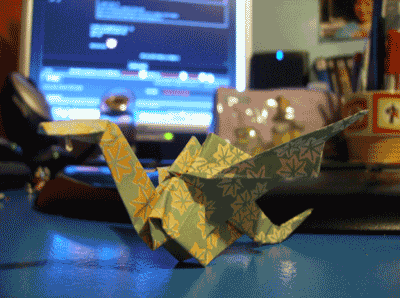 From reader in Edwards " This was my first try ever at the Origami Dragon and it turned out really well. Grawr. "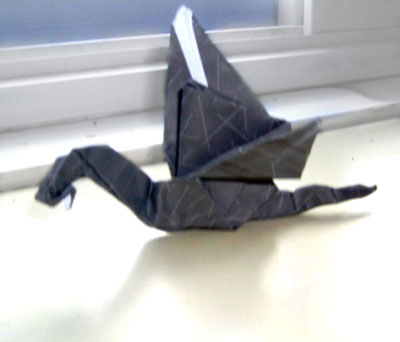 From Agnes in Florida "It took me 10 tries to make this dragon!!!
Agnes, your perseverance paid off!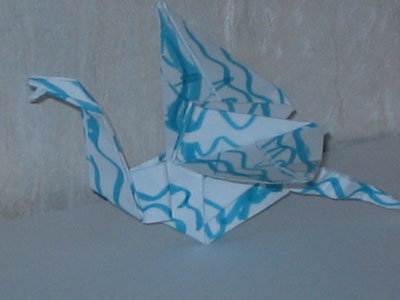 From Cameron in Houston: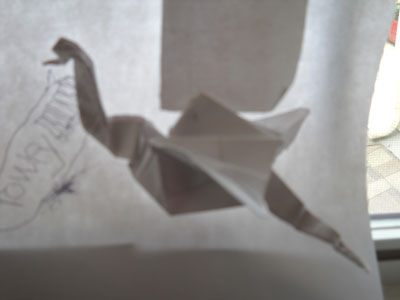 From Glenn in Charlottesville: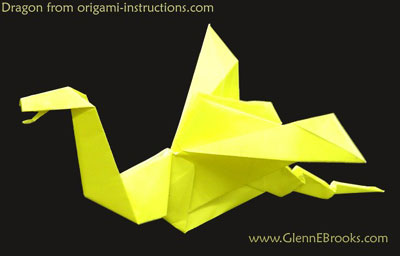 From reader in Esfahan: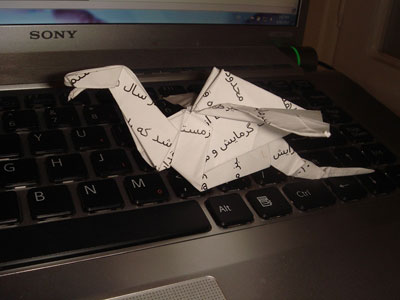 From Mladen of Srebrenica - Bosnia and Hercegovina "

I made innovation in making the dragons head. I hope you will like it. :) "
Mladen, we always like innovation!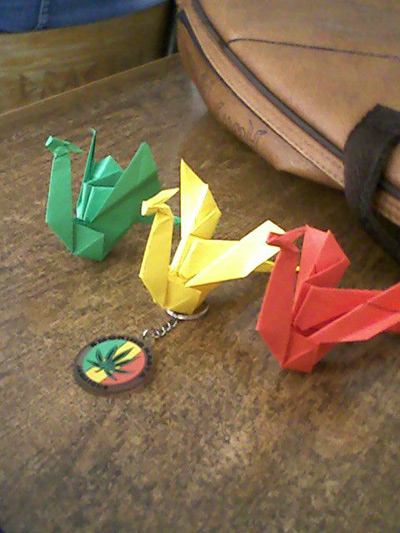 From Larry in Dearborn " Smallest origami dragon I can make. Can anyone make one smaller? "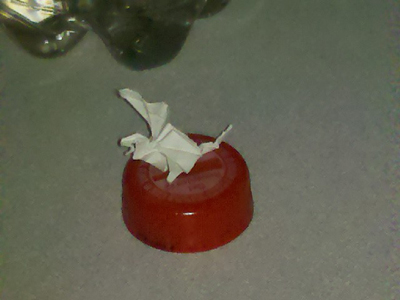 From Richard in Jacksonville " The largest origami dragon ever! The comparison was a quarter. "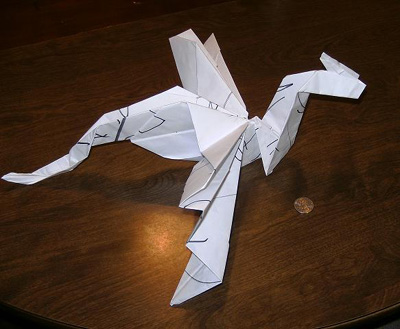 From Jordi in Mason " Wow! Cool dragon! I hope you like it. :) "
From reader in Florida: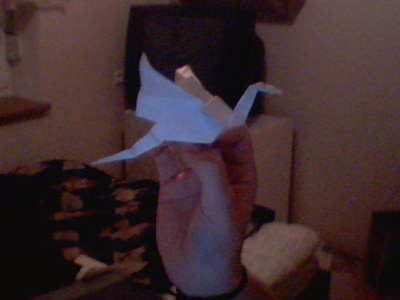 From Kenneth in Jakarta " I love the instructions!I never knew there was an origami like this. "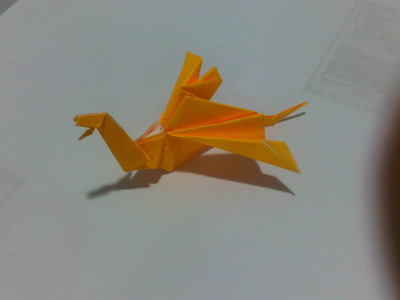 From Michelle in Davao City, Philippines " Whew! It took me a while to finish my dragon and am glad it came out well. "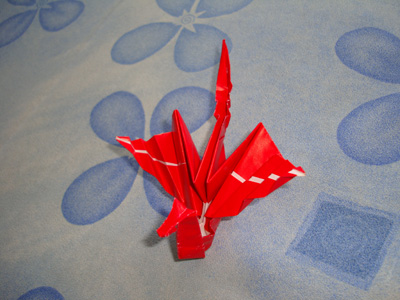 From Holly in Albany, Oregon " I'm kinda a "beginner" origami folder, but here's mine! Only took me on the first try! I absolutely LOVE dragons! Thanks! "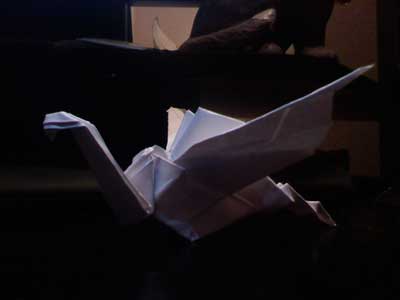 From reader in Epinay sur Orge " None too happy about the head but nice origami :D I've been looking for a nice winged dragon for some time, thanks a lot for the instructions ! "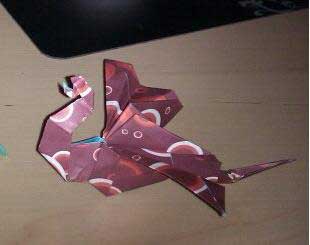 From reader in Retford "I found it quite easy yet challenging it gsve me something to do besides homework and I would recomend it to anyone who likes challenges and good results. At the end the final piece looks great. :) "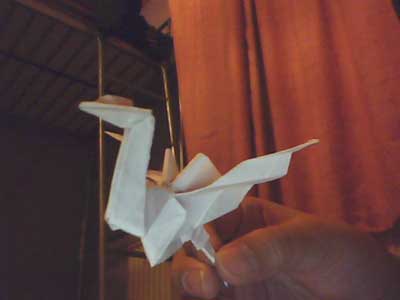 From Derose in Wake Forest " Oragami Dragon. It's the biggest one I've ever made!! "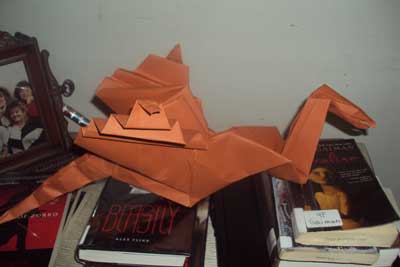 From Yekaterina in Novouralsk "Origami Dragon."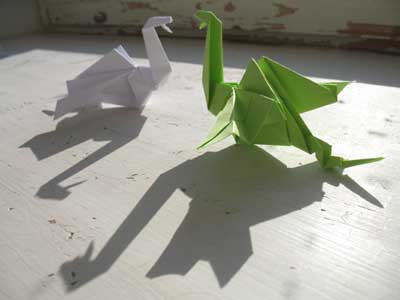 From reader in Izmir: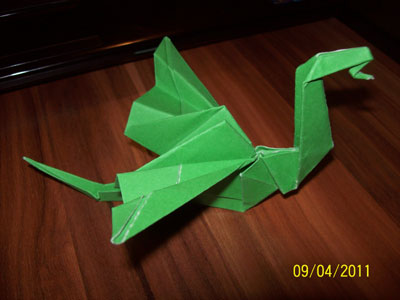 From Dito in Jakarta " Big Dragon flying on to Pisa tower "
From Nikki in Bell Florida " In response the a challenge above, this is the smallest origami dragon I can make. If you can't see it correctly it is sitting on a dime. "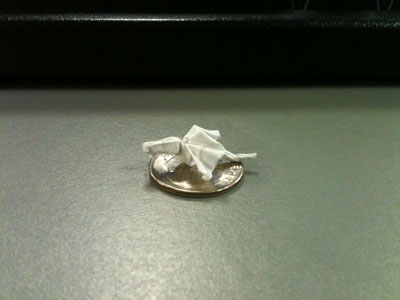 From Tara in Charlotte " Origami Dragon. This was my first attempt. I had a little bit of trouble with the reverse folds but I think it turned out pretty good in the end. "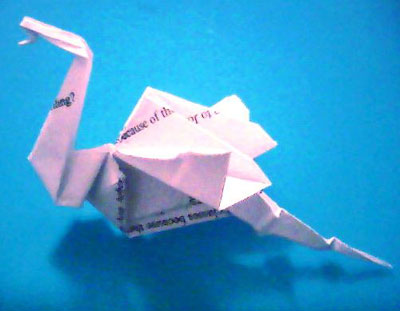 From reader in Saugus " Origami Dragon My very first one... I didn't like the two bumps on its back so I inside-reverse folded them. It helps keep the wings open. "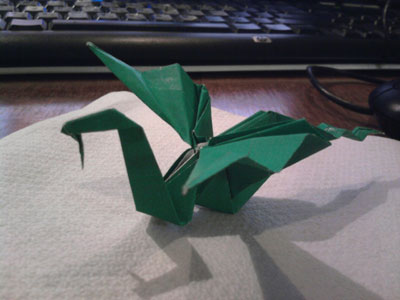 Did you make this origami? If so, upload your photo (2MB limit) via the comment box below. You can login with your Facebook, Twitter, Google or Yahoo accounts.