Smallest Origami Cube Challenge
It all started when a reader in Indianapolis emailed us a photo of the smallest origami cube he/she can make so far. It was only 2cm! The reader wanted to know if anyone can make it smaller? So, we posted the question on our website and some of our readers really stepped up to the challenge!
From reader in Indianapolis " I would like to start a how small can you make it contest. This is the smallest cube i can make so far. just 2 cm!!! "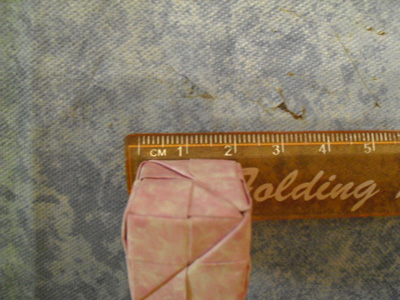 The first challenger came from Emma in Roeselare. Her cube was only 1.7cm!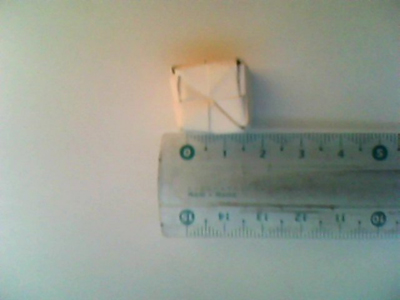 Then Agnes in Thessaloniki submitted her 1.5cm cube.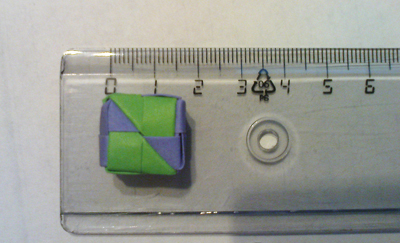 Next we received Nicevic of Timisoara's 1.2 cm cube. His photo was quite blurry as it was taken with a webcam. "1.2 cm cube.. I'm up to the challenge. I swear it's 1,2 cm! But my webcam sucks... oh well it took me a while but it's worth it."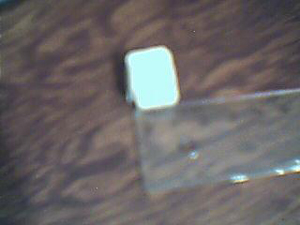 Next came Audrey of New York's 1.05cm cube. I just tried this out and made a 2.75 cm cube followed by two 2 cm cubes (for earrings) and then I challenged myself again. Here's my 1.05 cm cube! I'm turning it into a pendant!"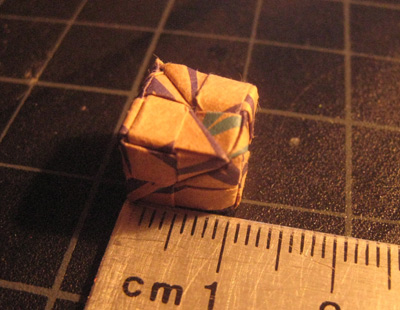 At this point, we thought it was not possible to go any smaller. But Keith of Casper, WY emailed us a photo of his 9mm origami cube! "9mm cube. Really tough to fold with my fat fingers."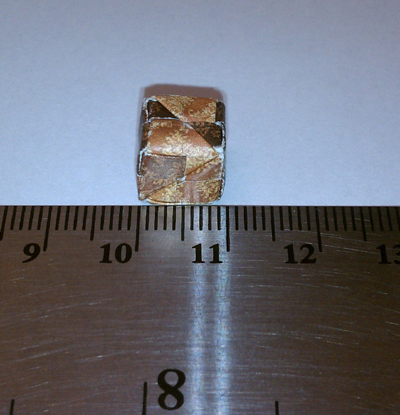 Then Keith topped it up with another one that was only 7mm! He told us his fingers and eyes hurt from making this!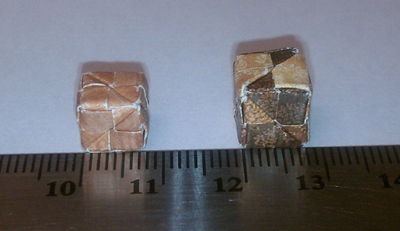 Just when you think it isn't possible to go any smaller, Stephanie in Netherlands proved us wrong again! She emailed us her super small origami cube which was only 5mm!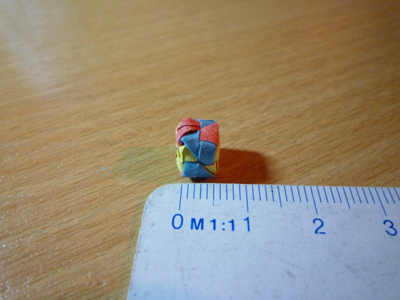 Keith of Casper WY has submitted another tiny cube, this time it's only 4mm! "This is the smallest I can physically make, due to my irritating finger size. 4mm cube. " This is now the smallest origami cube we've ever seen!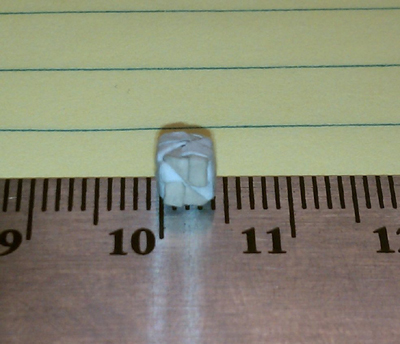 From Lorie in Los Angeles " Origami cube. Can this go on the "origami smallest cube challenge"? It is 3mm. It took me days to get this little critter. The trick (for me anyway) was using vellum. I tried regular origami paper, foil origami paper, regular paper, tissue paper and homemade foil-backed tissue paper. But lightweight vellum did the trick. It holds folds quite well, is flexible and the tips and pockets are easy to fit into each other. And it doesnt lose its shape. Thanks for the challenge. "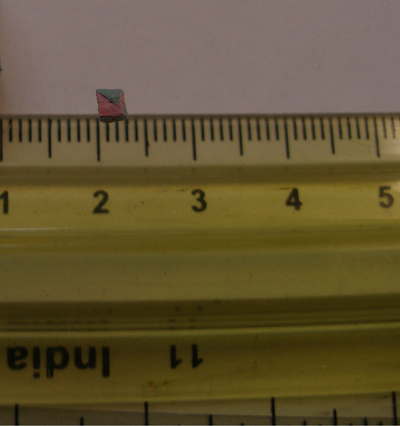 Did you make this origami? If so, upload your photo (2MB limit) via the comment box below. You can login with your Facebook, Twitter, Google or Yahoo accounts.