Origami Modular Star Readers' Photos
The origami modular star turned out to be more popular with our readers than we thought it'd be! Here are the many photos we've received of this modular origami.
From Jamie in Vancouver: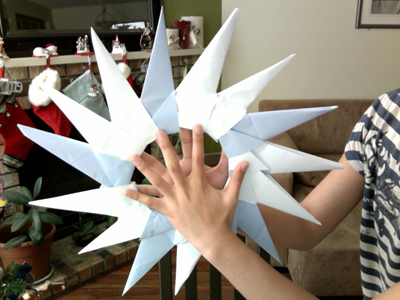 From reader in Waterbury: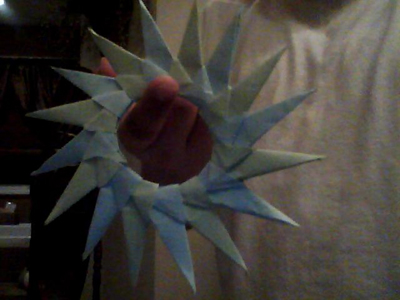 From Nithish in Mumbai " 16 Point Origami Modular Star."
Love your colorful origami modular star, Nithish!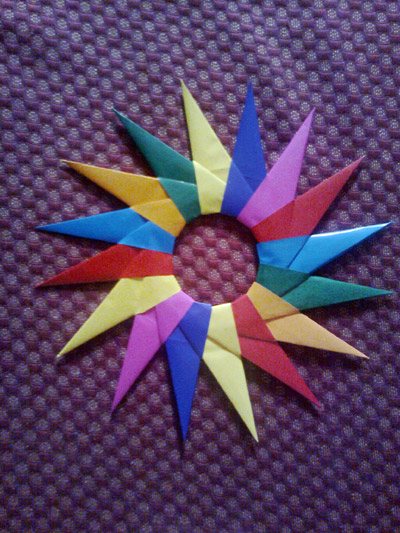 From Katie in Hong Kong " This was my first attempt at the Origami modular 16 point star... i'm so chuffed at the way it turned out. it looks great. its gonna be a decoration on my xmas tree :) "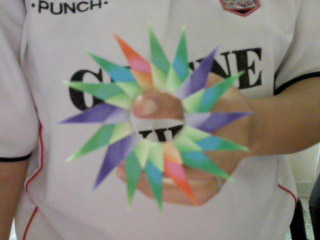 From reader in Indianapolis " look at them all! one weeks worth of origami. not all of them are from your site. from left to right row 1: hippo,horse, inflateable bunny, cheetah,swan,chicken,dragon,boar,cow,panda row 2: day lily,flower,lotus,crane,pig,bellflower,mole, butterfly,zebra,toucan row 3:crow,frog,alligator,modular 16 point star,modular pinwheel,giraffe,dragonfly,angelfish row 4:star,fish,seal,jellyfish,carnation,shrimp,eagle,lily row 5: coy fish,rooster,seahorse,dolphin,dahlia,star,tulip,flamingo,camel,peacock. row 6: spider,pigeon,flapping crane,turtle. (sorry its blurry/far away.Its hard to fit all those in one picture. "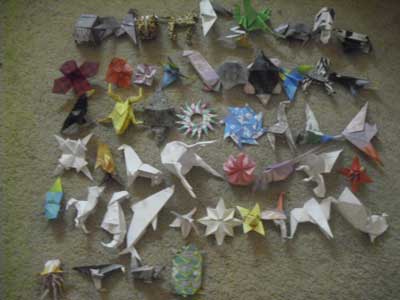 From Ruthie in Saluda " These instructuions were very clear, and it was really easy to make! I'm only 11 years old and I made this!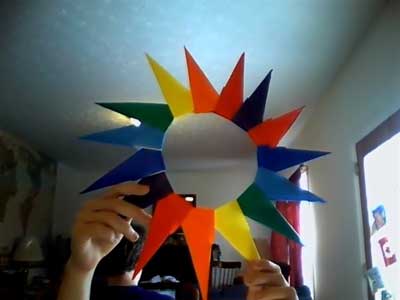 From John in Clearwater " My black and red modular star :D! "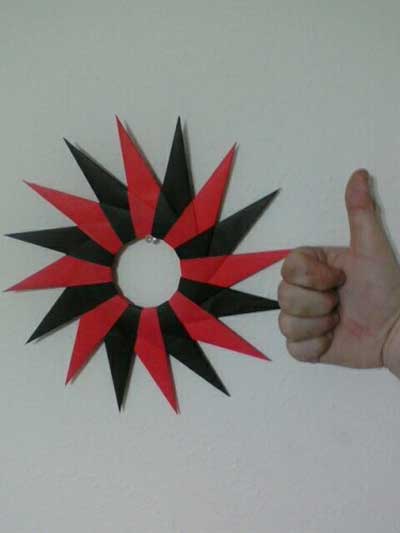 From reader in Cave Springs: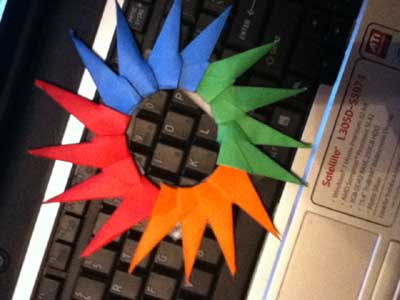 From Kotomin in Hanoi " I see, this model is very easy for me since I've been into origami for almost 4 years. My teacher told me it looks somehow like the crown on the head of The Statue of Liberty! "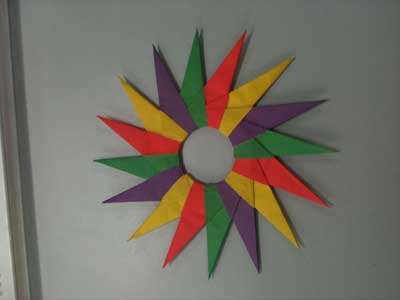 From Tracy in Fort Belvoir: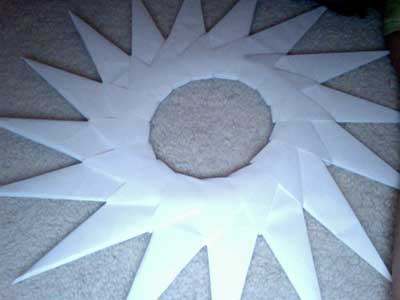 From Evie in Greece " This is my origami star made by post-its!I liked it so much and I decorated my room with it!!!:) "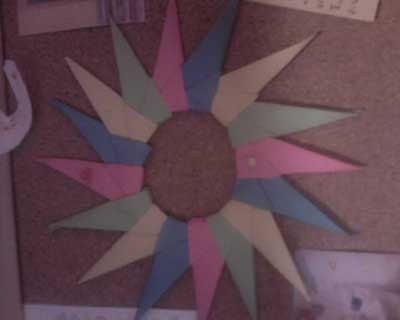 From reader in Caracas " 16 point origami modular star. It is actually 14 points only, but the paper size and weight made it hold together :) "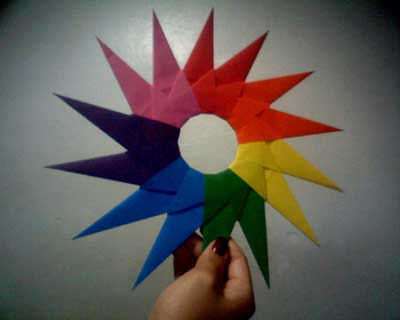 From Emily in Raleigh NC " I saw this on the website, and I had to try it! "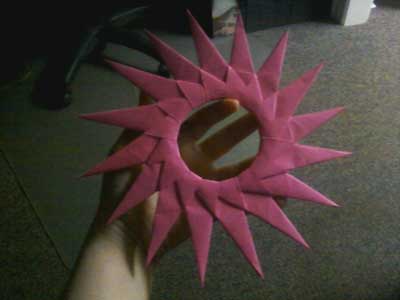 From reader in Fremont " An origami modular star I made with 17 sheets of paper. "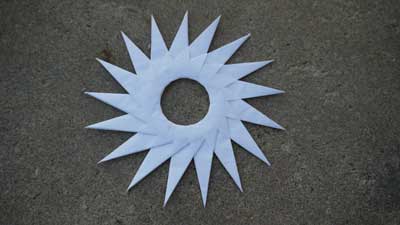 From Jonathan in Hermanus " I used up all my mom's scrap paper and made every single origami item you have on your website. I am now addicted to origami. My mom has ordered me lots of origami paper online for me. "
Wow, Jonathan...You must have spent a lot of time folding these!

From Carisma in San Jose " A modular star I made with a ninja star inside it . You should try it someday . It's really cool . Then ninja star inside it is like a handle and makes you throw it better . =] IT'S REALLY COOL . TRY IT "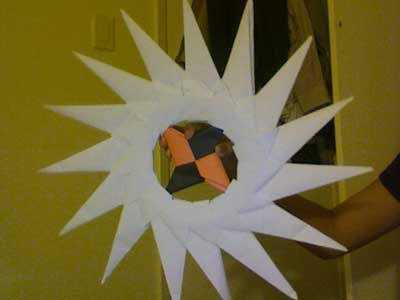 From Surobhi in Chennai " This is a Modular Star.I am new to Origami and I spent the entire weekend learning from this great website. Tried almost all. Thanks. "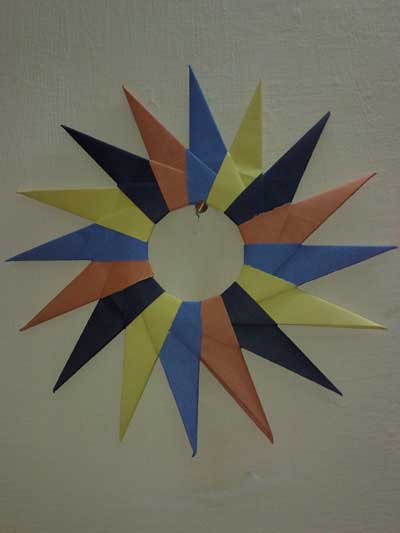 From reader in Clermont "Modular Origami Star!!!"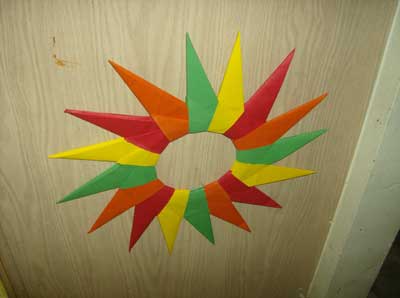 From Mikey in Erial "I made this in school and the kid next to me said it looks like a mohawk ."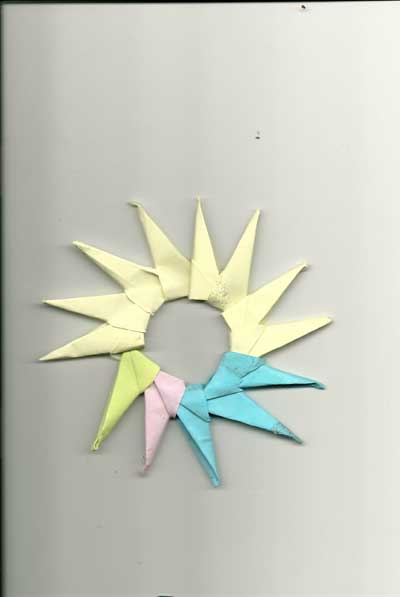 From Alex in Niagara Falls " 16 Point Modular Star. I made this origami for my grand-father. Thanks so much for this design. "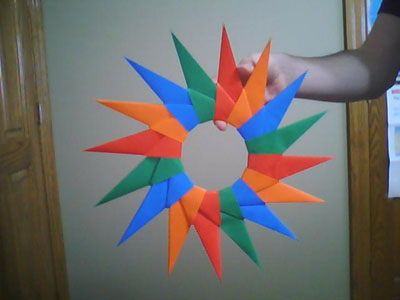 From Brittany in Denver " The 16 Point Star and a Ninja Star. Thanks for the easy instructions!! "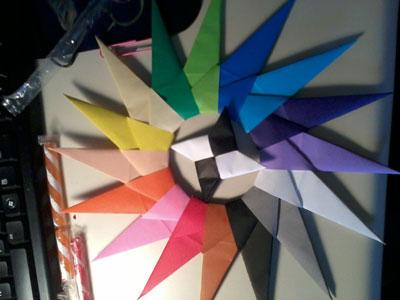 From Elian in Concord " This was so easy! Thanks for the instructions! "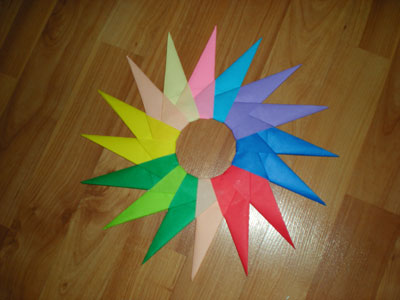 From Angela in Sydney: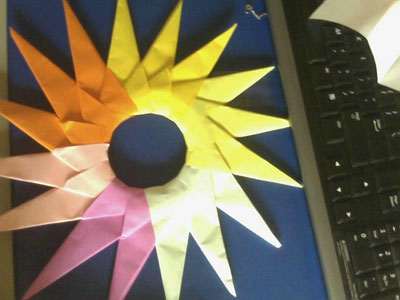 From Rachel in Christchurch " My Origami Modular Star. My first attempt turned out to be better than i thought :) ":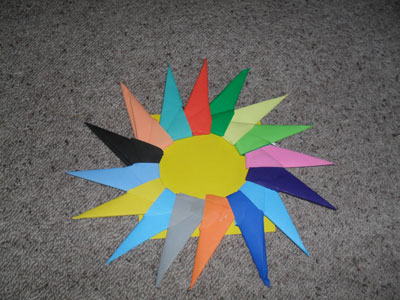 From Abdulkarim in Jeddah: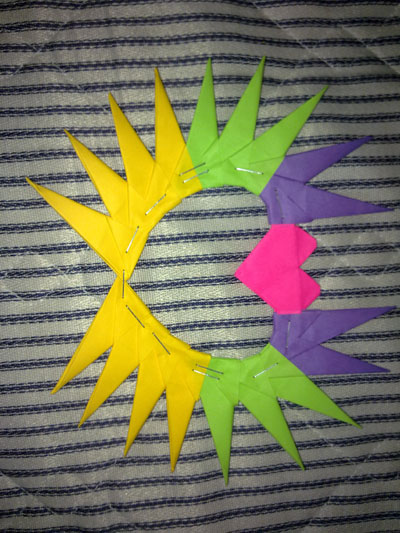 From Shauna Lindsey in Lewiston: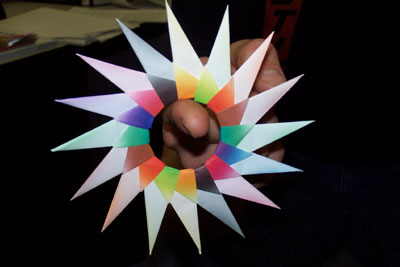 From reader in Goodrich " Origami 16 point modular star next to an Ipod Touch 2g.":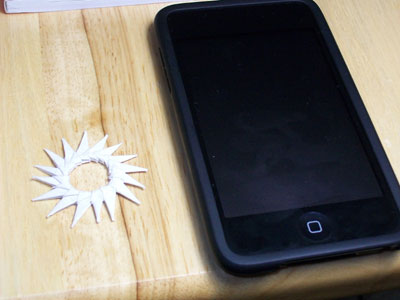 From Paige in Menomonee Falls: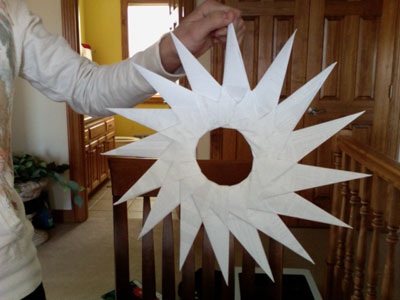 From Theo in London " this modular 16 point star is the easiest modular origami i've ever made!!!!!!!!!!!!!!!! ":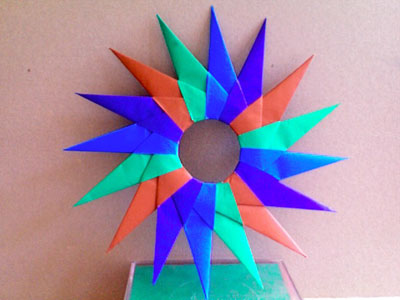 From Stephanie in Tracy: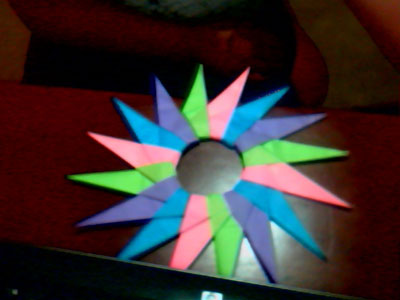 From Alex in Calgary " 16 pointed star in 4 sizes... top left is full size, top right, 1/4 of full size, bottom left is 1/16 of full size, bottom right is 1/64 of full size! loved this origami :) "
Really nice, Alex!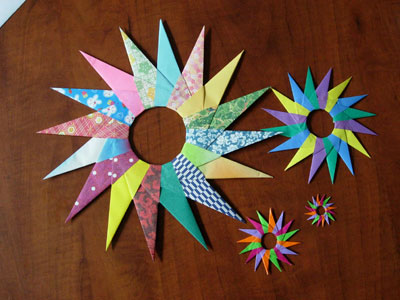 From Alex in Calgary "16 pointed star...4 16-pointed stars on top of each other "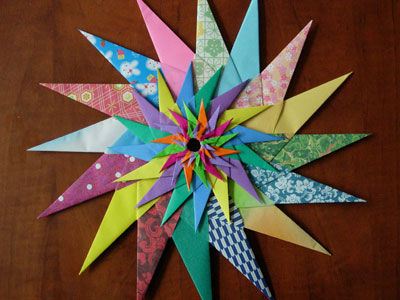 From Lena in Incirlik " This is easy to do with a lot of color scheme posibilities!! "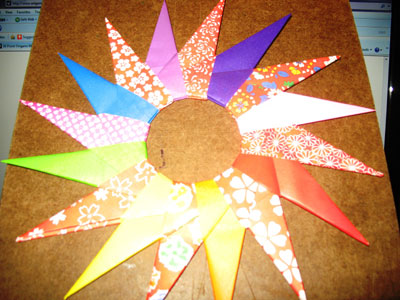 From Eric in Clovis " Modular star. loved this!!! "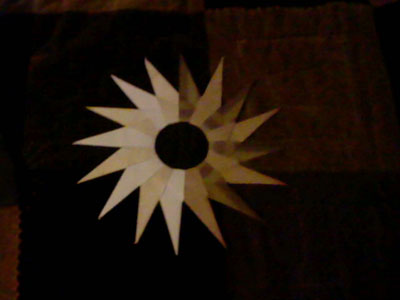 From Cameren in Spartanburg " This is my 16 point star. I pair the colors in a rainbow order . "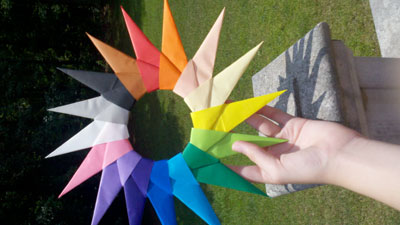 From Micajah in Houston " i made a modular star."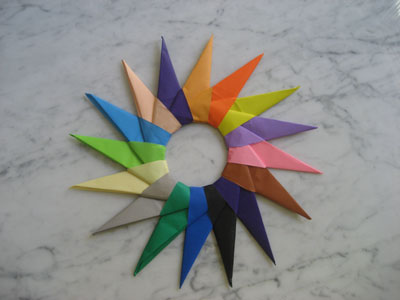 From reader in Mentor " origami 24 and 14 point modular stars Thanks for the easy instructions. I love this website! I have already memorized how to make the 16 point modular star. "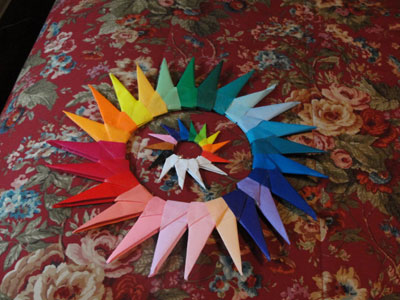 From Alex in Cambridge: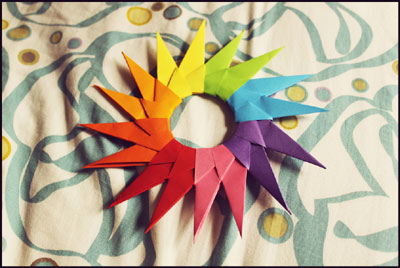 From Nat in Singapore " simple origami 14 point modular star "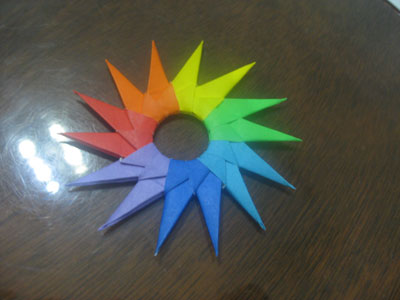 From Areca in Yangon " This is 16-pointed star Modular Origami. It took me only 20 minutes! This is really simple and fun! Try it out! "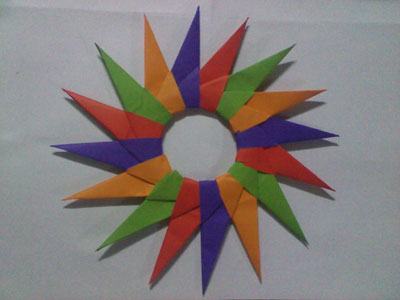 From Padma in Chennai "Origami 16 pointed star."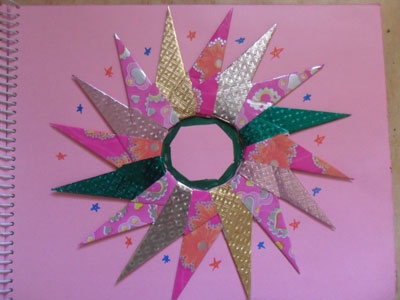 From Susir in Santa Maria " 50mmx50mm paper 16 point modular star "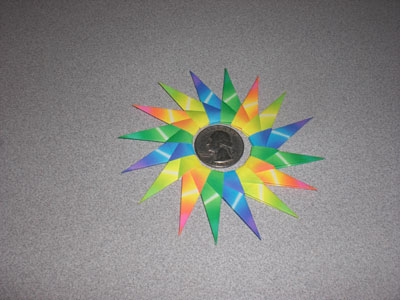 From reader " Only had newspaper and a4 paper , so i had to compromise."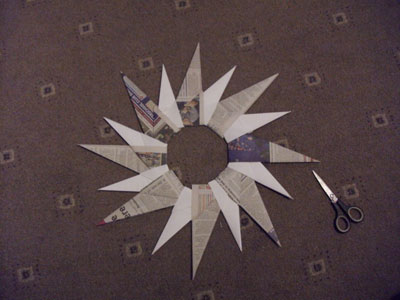 From reader in Melbourne " Hi this is my 16 pointed star! i hope you like it! Its not the best but it was my first attempt thankyou i love this website!!"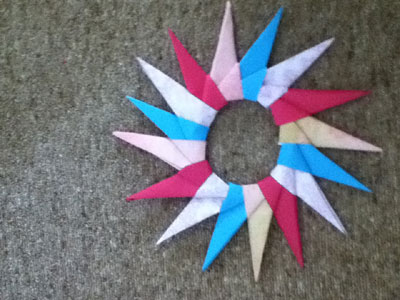 From Joshua in Thousand Oaks " I folded the 16 point star modular origami and it turned out great the first time around! It doesn't stay together well, but it's great fun to fold."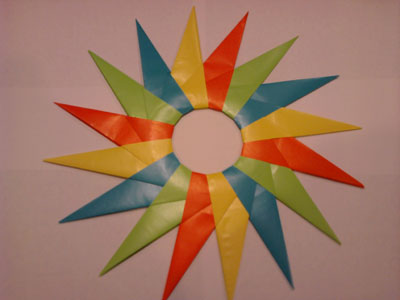 From reader in Lawrencevill " This is the 16 pointed star. I made this using white paper and coloured the design in. I also put a mini star inside this star using the scraps from the 8x11 paper. I think I made this a 17 point star though."
This modular star has a hypnotizing quality!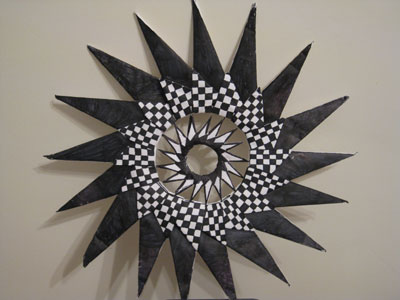 From Bree in Rutland County "16 pointed star"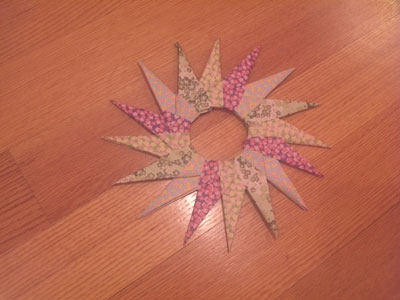 From Grace in Renton " This is my 16 point star that i made in my favorite colors. surprisingly it only took like 10 minutes because i am a fast folder. "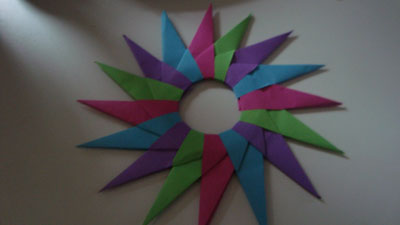 Did you make this origami? If so, upload your photo (2MB limit) via the comment box below. You can login with your Facebook, Twitter, Google or Yahoo accounts.