Origami Lily Readers' Photos Page 2
Here are the latest Origami Lily photos sent in by our readers! You can also check out more photos on Page 1.
From David and Helen in Stoke " Using the above instructions I made origami lilies from 2 1/2" squares up to 8" squares out of ordinary printer paper. I made two bouquets, two corsages and loads of table decorations which took me weeks but I got lily making down to six minutes towards the end. "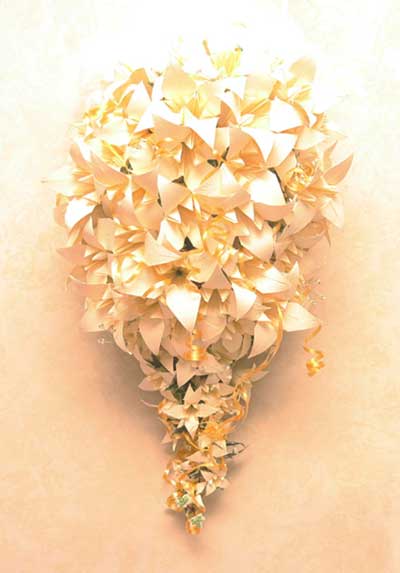 From David and Helen in Stoke " Our wedding day 29th January 2011 ."
Wow, thank you for sharing photos of your origami and special day. Congratulations, David and Helen!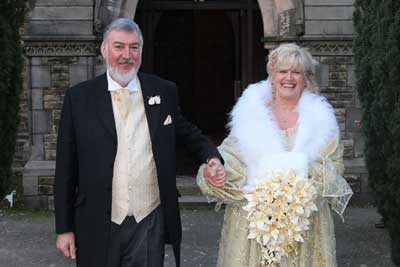 From Evie in Greece " These are my first origami lilies.I think te=hey are very beautiful!!!I also enjoyed making them soooo much!!! :) "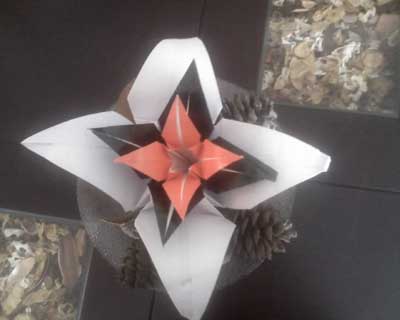 From reader in Entenhausen " Nice Combination of origamis, hope you will like it :) "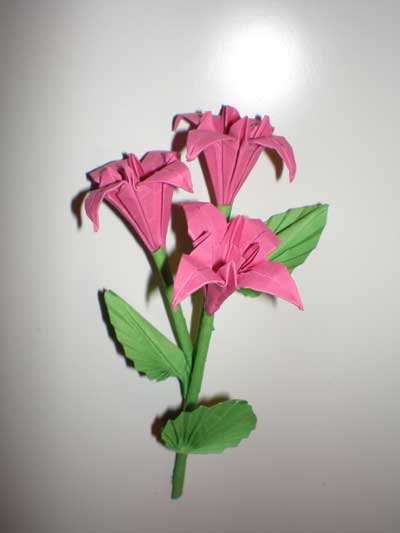 From Aboni in Scarborough " thanks for the origami! I made this for mothers day by using the extra bits of paper left when making the biggest one and then putting them on a string from biggest to smallest. "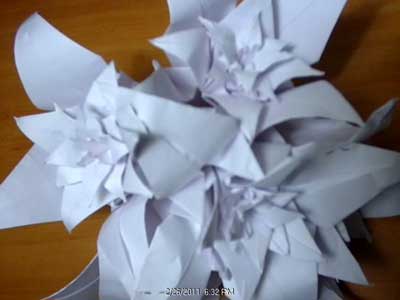 From Arizona in Sherbrooke " Origamy Lily that took me a LOT of time to do because i don't have origami paper, where can i get some? "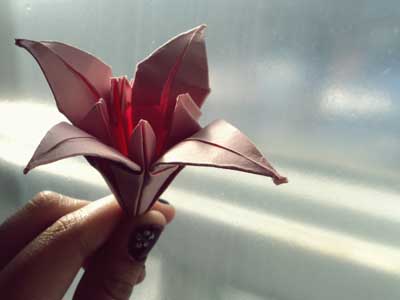 From Eric in Waipahu " Origami Lily out of post it notes :) "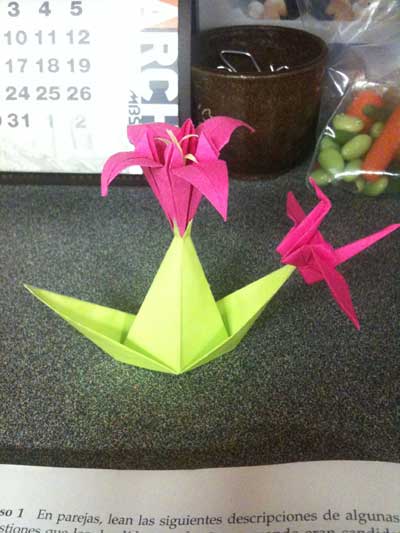 From reader in Puerto Princesa City: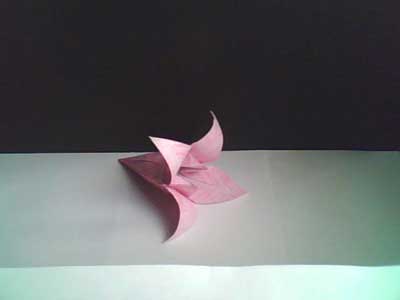 From Azman in Singapore: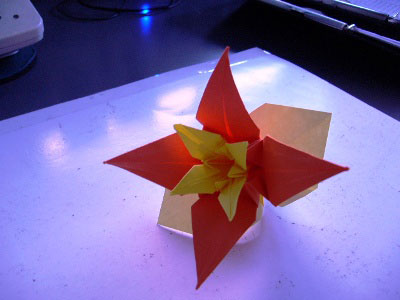 From Diah in Jakarta " Love the origami flowers... still cannot make lily as beautiful as you did, but I am proud of my pink lilies."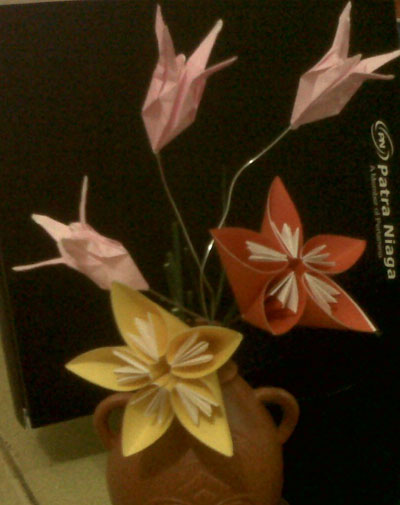 From Yana in Nottingham " It's an origami lily that (somehow) went wrong and now it looks like an iris flower! I don't know how it happened... Maybe you could add an extra category to your website, something like "creative disasters", so people could share their strange, new creations? :-) Best wishes "
From Emve in Umea " Bouquet of origami lilies. "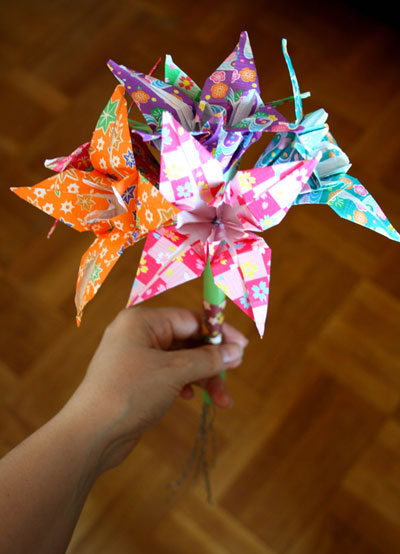 From Tara in Charlotte " Origami Lily. First attempt. "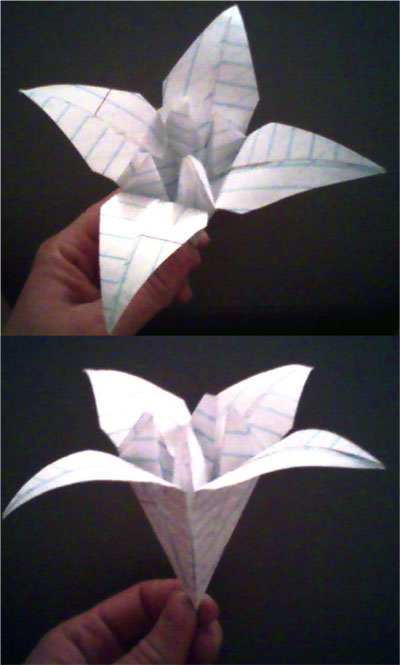 From Jesse in Denver: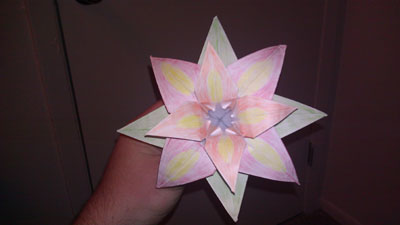 From Dennis in Neustadt " A lily I made, with a tulip Stem ":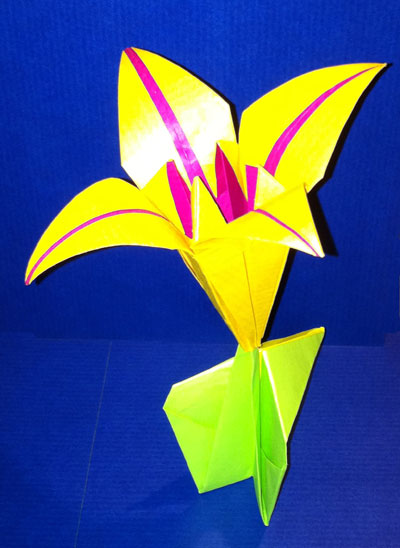 From Breanne in Texas " For Mother's Day, I made my mom a really cool flower bouquet consisting of Traditional tulips, lillies, and day lillies.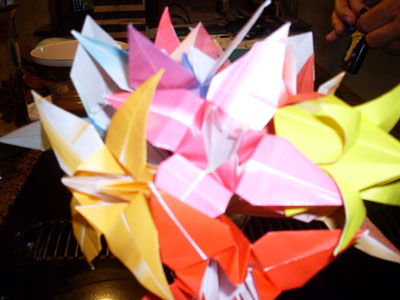 From Lea in Paris "A bouquet of Lily flowers I made for mothers day. "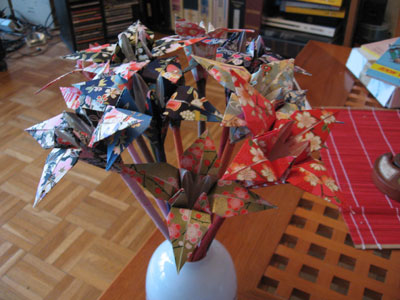 From Mary in Jackson " Origami tulip and lily bouquet."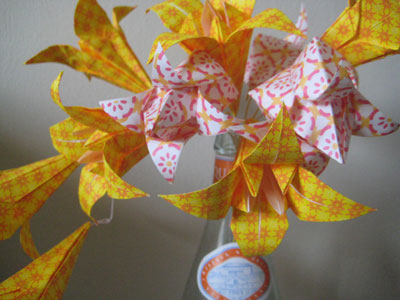 From reader in Queensbury " This is a bouquet of Origami Lilies I folded using instructions at www.origami-instructions.com ! Thanks for the help!! "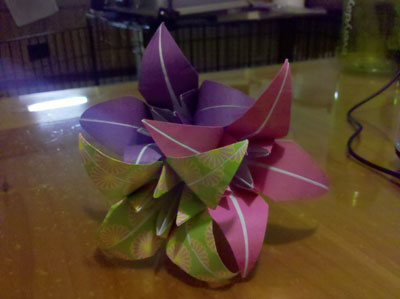 From Megan in Canada " My Origami Lilly! So far this is the best origami site I have ever been to! I love making origami and your instructions are so easy to follow! "
Thanks for the compliment, Megan!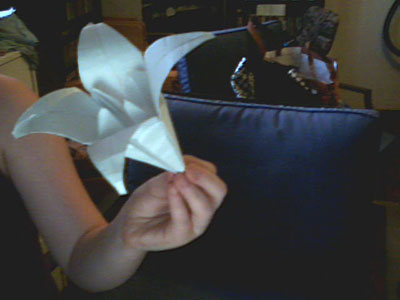 From Phoebe in Malolos "Origami Lily."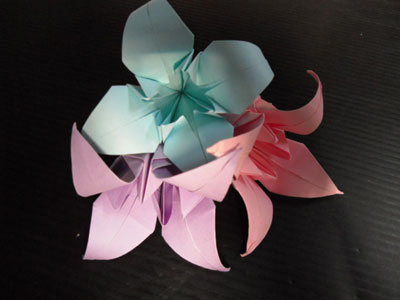 From M. Wolfenden in Sydney "A beautiful origami lily ! "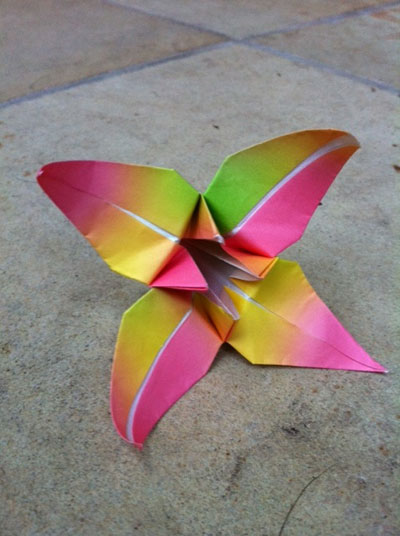 From Stacey in Zamboanga: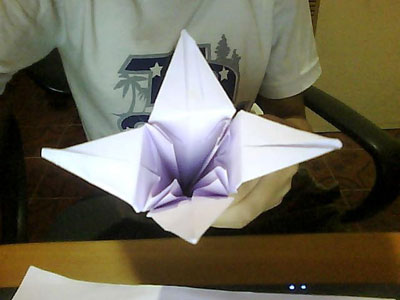 From reader in Kurnool "Origami Lily":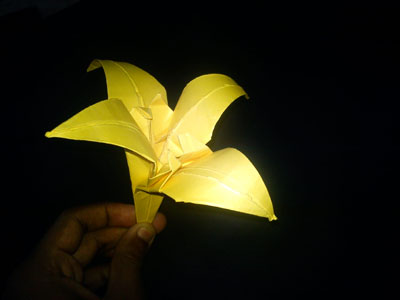 From Aoifie in Hillsboro " These are my first and second lilies. "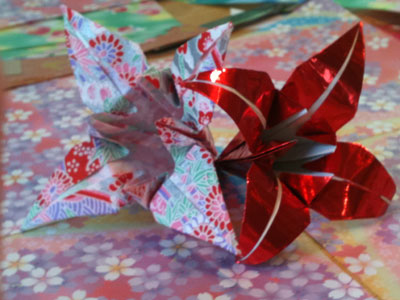 From Christian in San Diego "Origami Lily. It was very hard at first, but then it got easier. "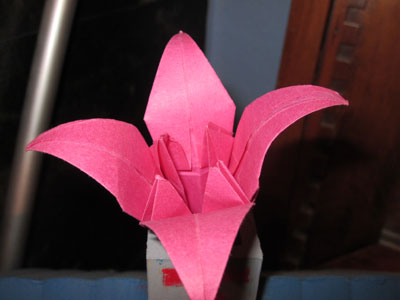 From Phoebe in Stoke " origami lily. this is the first time i ever tried this. i hope it turned out well!!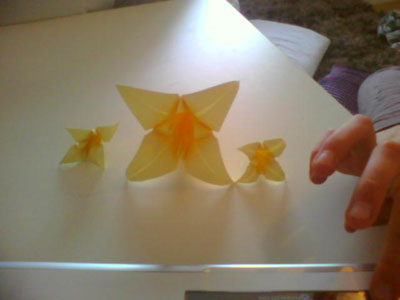 From Joshua in Manila " i made it because i want to study all about making a great origami!!! "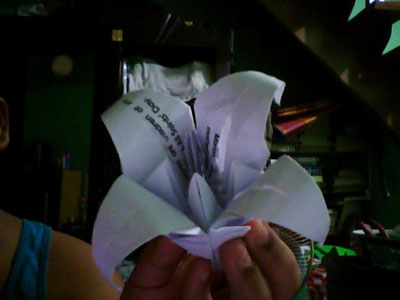 From Christian in San Diego County: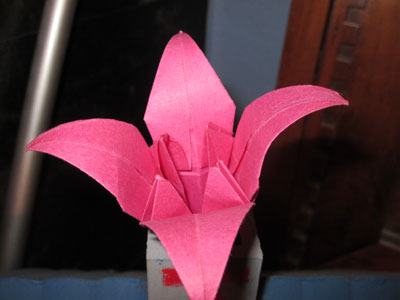 From Iqah in Malaysia: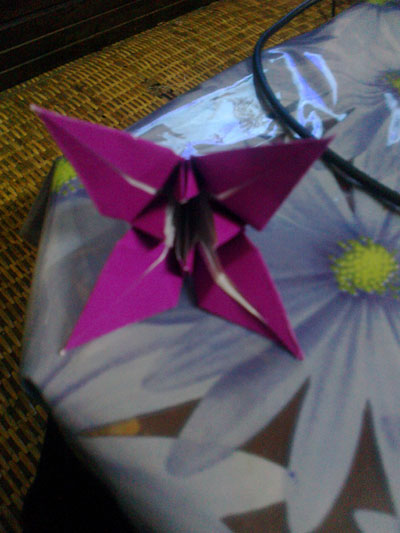 From Kyle in Okotoks " An Origami Lily inside of a Day Lily inside of a Vase."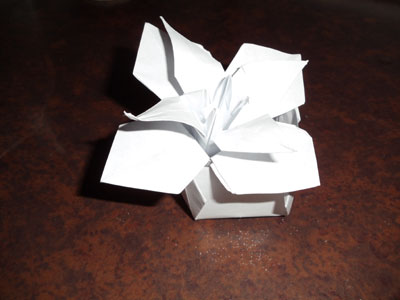 From reader in Ketchum " I finally got my lily! The directions were really difficult and at first I didn't understand at all, but then I watched the video and it was easier to make. I think I did a couple things wrong, but I am glad I got it! I am 13 and an avid folder, I love your website! "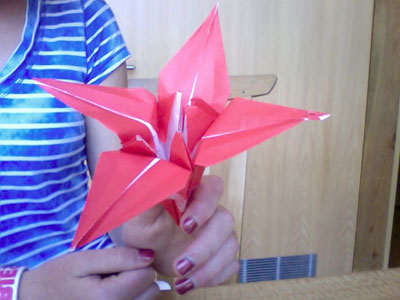 From Chelsea in Philippines: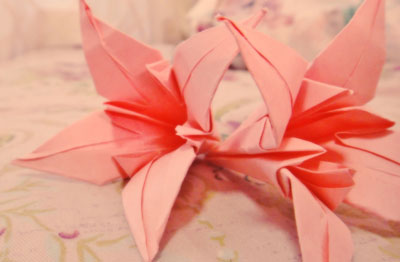 From Alice in St Paul " These are Origami Lilies I made from your instructions to decorate a birthday present! Thanks for the help!@ "
What a nice gesture!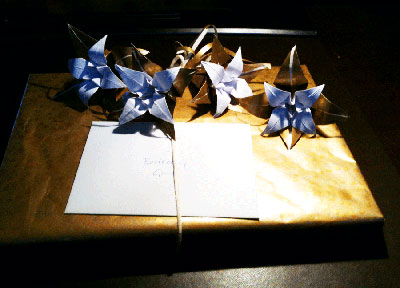 From Fara in Malaysia " my lily origami. my god i still cant believe that i can make it. love origami.. :)joy!!! "
Yes you can and you did!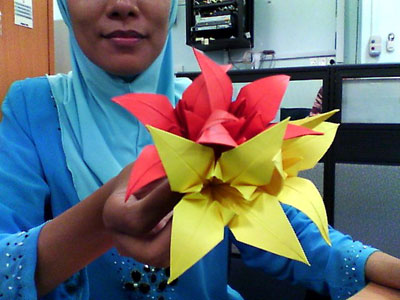 From Zantira in Durban: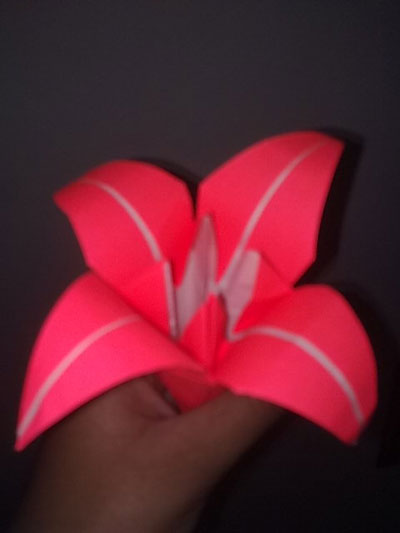 From Evan in Carlsbad " origami lily, I love it. "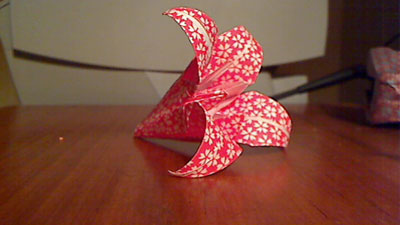 From reader in India: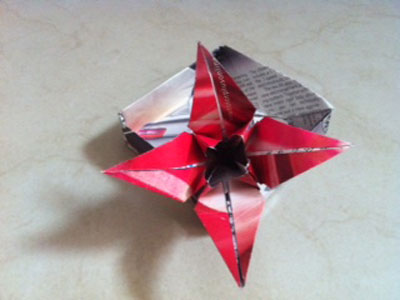 From reader in Franklin: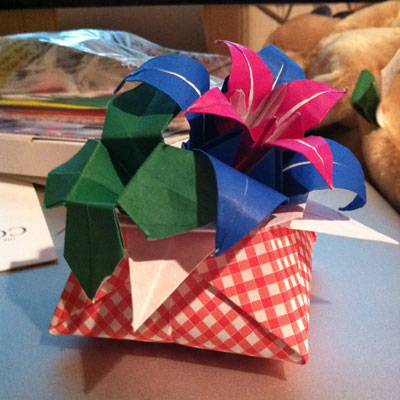 From reader in San Antonio: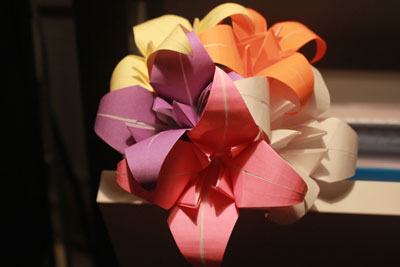 From Anu in Chennai " Origami lilies in a wine bottle:) "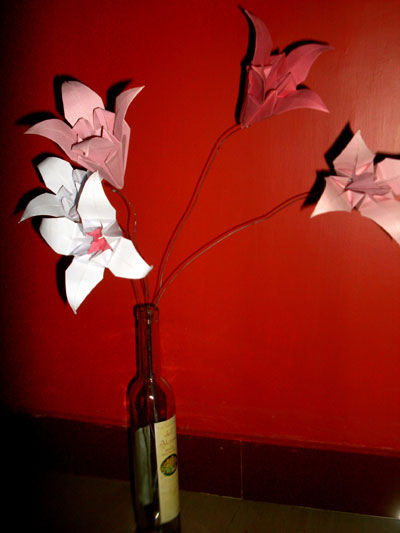 From reader in Christchurch: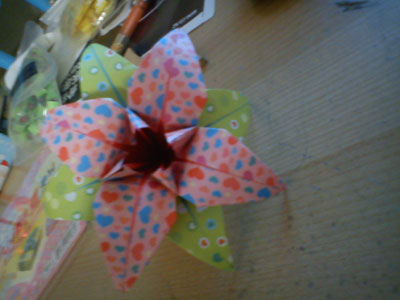 Did you make this origami? If so, upload your photo (2MB limit) via the comment box below. You can login with your Facebook, Twitter, Google or Yahoo accounts.