Origami Box with Cover photos
Here are origami box with cover photos that have been submitted by our readers. Check them out!
From Ramona in Berlin: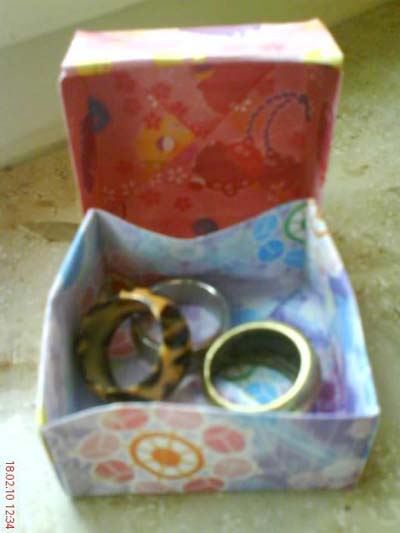 From Jen in Wyoming " The treat boxes im making for my daughters Halloween theme birthday party. She will be 2!!!"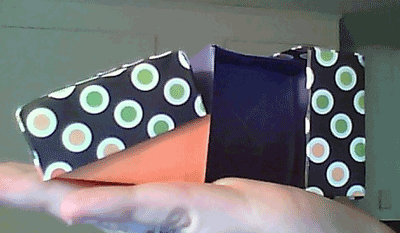 From Dhara in Pune: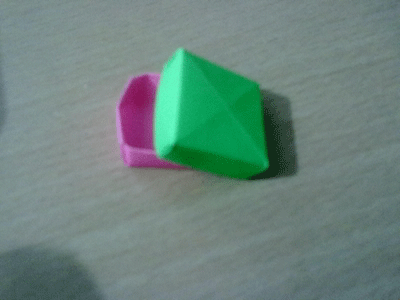 From Ingrid in Amsterdam "I find myself addicted to making the boxes."
You sure have many origami boxes there, Ingrid! :)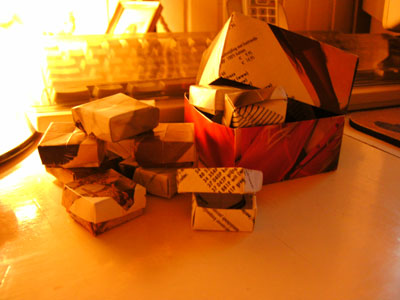 From Ivona in Struga " I love this site! I love this origami it is easy and practical.Me and my friend do origami all the time. "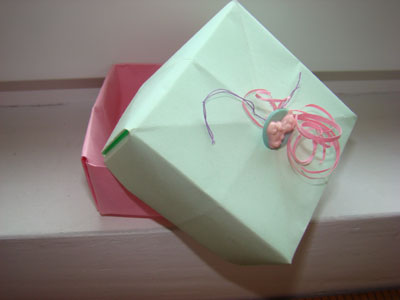 From Crysta in Minneapolis "Origami box with cover - It was surprisingly easy. "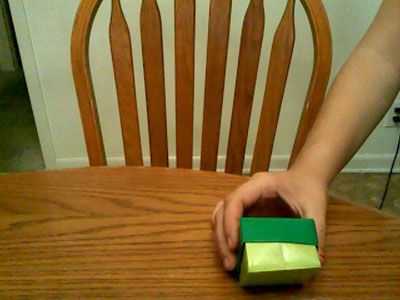 From Dave in NYC: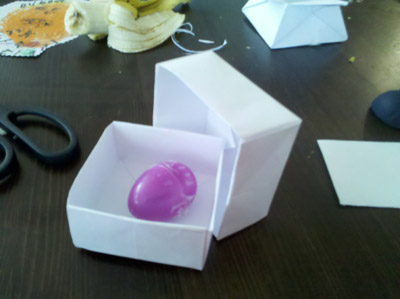 From Kay in West Tisbury " Origami box with cover...makes a great jewelry box for a handmade gift! "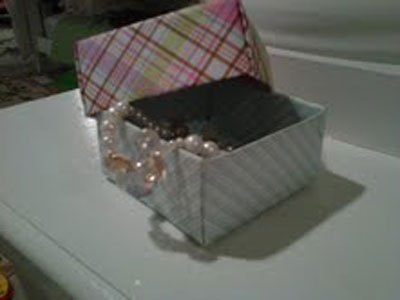 From reader " In all my procrastination, i found something to do. I cut an A4 piece of paper in half, made an origami box out of one. Then with the other half, i trimmed it by a few mm, then made a box with that. And guess what? THEY FIT! Yeah, and I made a origami flower thing to put into the smaller box, WOOT "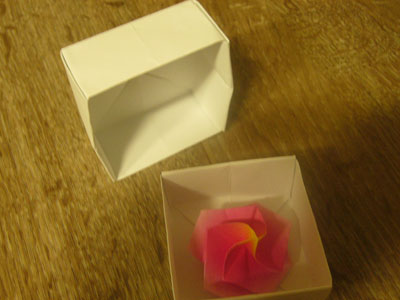 From Alec in Logan " I had made many mini envelopes with mini cards to send to my girlfriend and used the basic origami box to easily store all of them. Complete with lid. "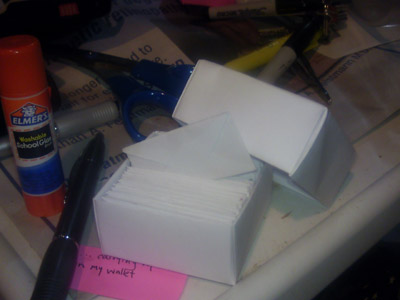 From Missy in London " this is my big and little origami boxes with covers."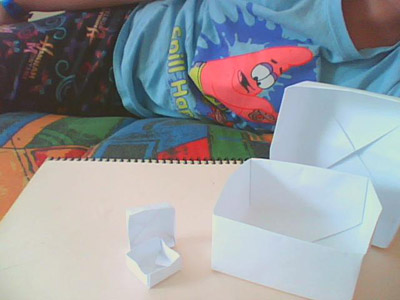 From Raz in Kalmar, Sweden " I made these for my girlfriend for christmas candy-give aways. "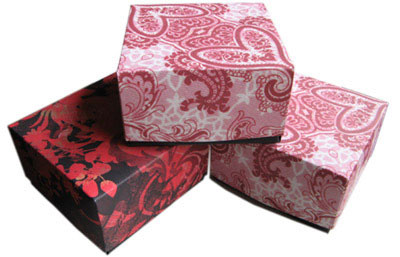 From Casey in Lindale " I stayed up late making this origami box for my husband while I probably should have been sleeping. "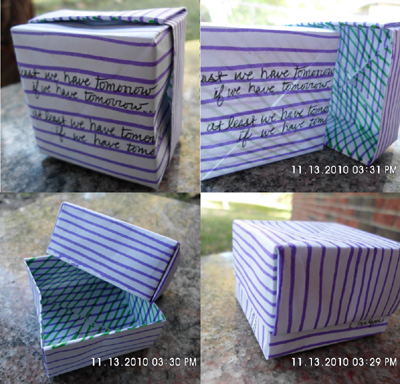 From reader in Dawsonville " This is a large Origami Box w/ a lid made from Halloween Cardstock Paper, I love it. And didn't even plan to make Frankie come out so well on the top! "
Love your Frankie paper!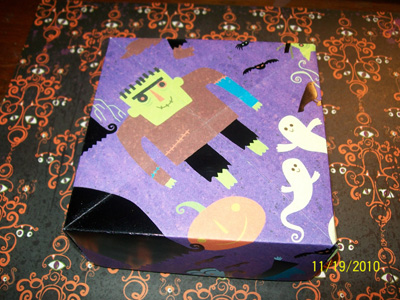 From reader in Geelong " Relaxation for a fidgety person. This is only some of what I made today. "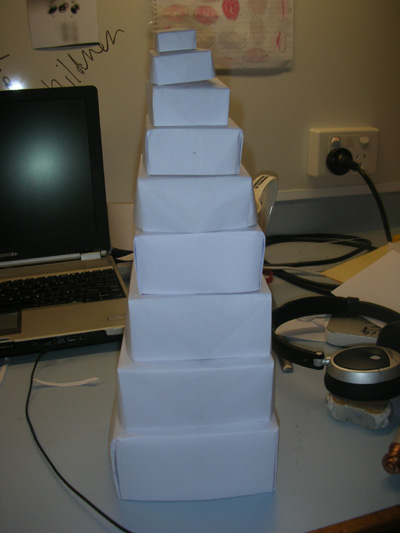 From Beverly in PA " I made several origami boxes out of 12x12" floral-themed Calendar pages. I achieved crisp edges with a bone folder. I filled the boxes with 4 types of bagged seeds out of my own garden for Christmas gifts for fellow gardeners. I wrapped each box with metallic cording and added a pine cone accent and tag. The boxes are of course reusable after the seeds have been sown. I adore this method of box-making. It's very soothing and industrious with attractive results. The recipients were thrilled with their gifts. "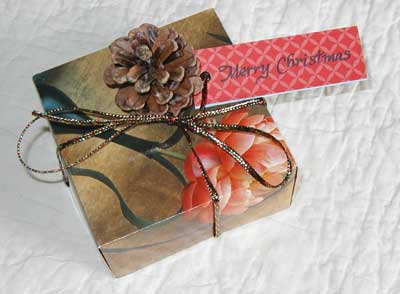 From Sharon in Eugene " I just couldn't stop once I started folding the boxes. I kept going smaller and smaller to see how small I could go. These 2 are my smallest yet. "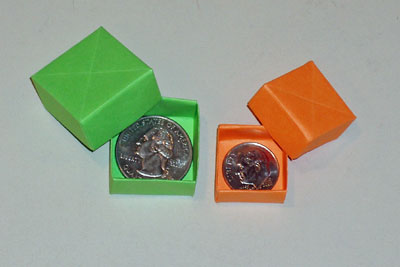 From reader in Yanbu " I made it for me while i was borr :P its an awesome activity to spent leisure time :D "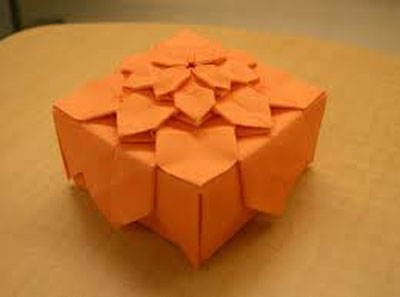 From Claire in San Mateo "ORIGAMI BOX - Practiced a little with white paper, then found some other things to make boxes out of. I found this pretty cherry blossom picture in the magazine, cut it out, and formed it into a box. [: "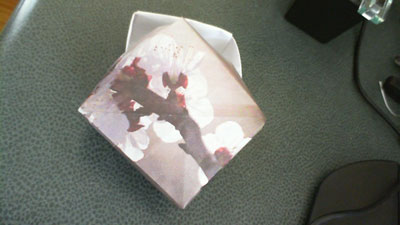 From Pam in Nebraska " I made this origami box to hold a necklace I made for our niece's 1st Communion. I used card stock, decorated it with a few stickers, and tied it all shut with contrasting yarn. Fun and easy to make! "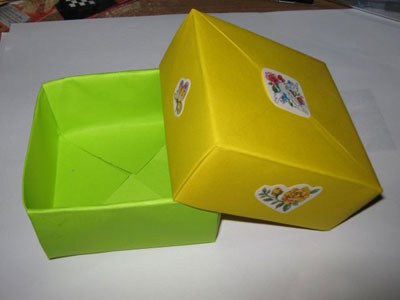 From Neil in Bloomington " I put a big box on a small box for a lid :P "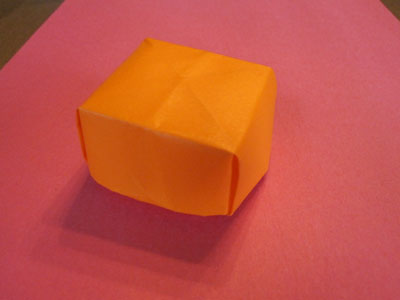 From Eli in Detroit " I thought this was a good 1st attempt at the box w/ lid :) "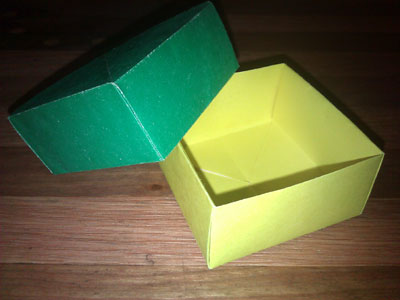 From Ingibjorg in Iceland " this is a origami box with a cover."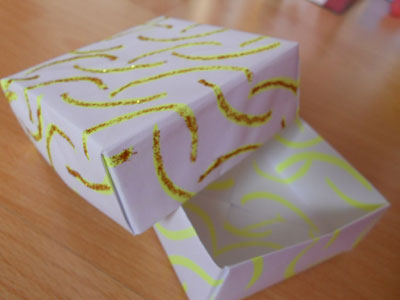 From Cymbeline in Cavite City "origami boxes i made from art papers and glossy pages of magazines "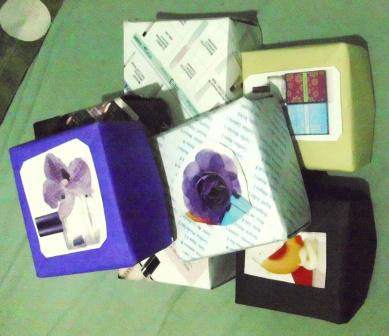 From E.Mark in Kailua-Kona " Creative inspiration for the boxes came from magazines and their designs. I cut out a lot of magazine pages to create the boxes. Using the thicker card stock from the "Disney" advertorials proved to be a hit with great results! "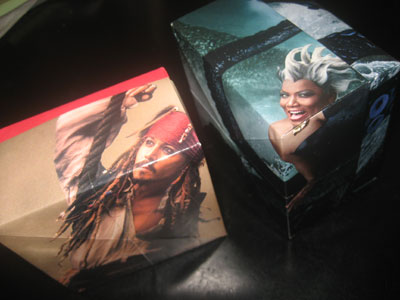 From Christie in Wichita " I used a thicker paper (12x12 inch scrapbooking paper) for this box with a cover, and it turned out much better than just thin origami paper. "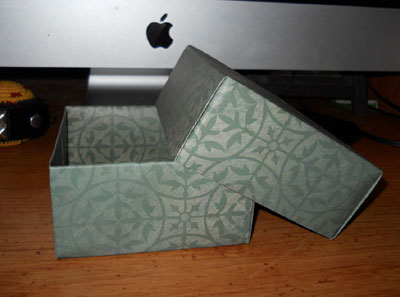 From Christina in Kahului " Origami Box Great for gift boxes or storing your favorite knick-knacks. I personally like putting candy in it and giving it to my friends. Thanks for the instructions to make it! "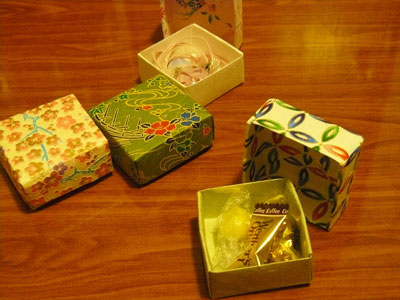 From Jen in Raleigh " Origami box with lid, made out of scrapbook paper. "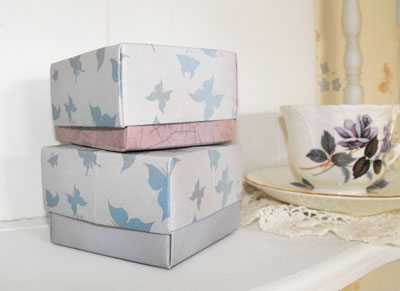 From Sandi in Portland " we used your great instructions yesterday at my Stampin Up Downline meeting, to create and decorate these beautiful boxes. "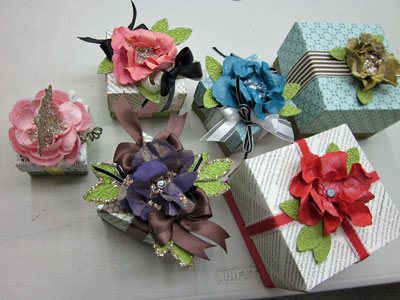 From Izabella in Auckland: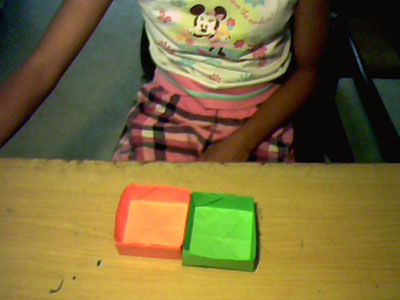 Did you make this origami? If so, upload your photo (2MB limit) via the comment box below. You can login with your Facebook, Twitter, Google or Yahoo accounts.