Origami Box Photos
The origami box is one of the easiest and most practical of origami. It is no surprise that readers of this site love it and have used it to store jewelry, paper clips, guitar picks, coins, etc!
Thanks to reader Nick from Oklahoma for submitting his origami box - "The box is one I'm still kind of working on... It's not perfect like the one in your instructions, but still I'm getting there."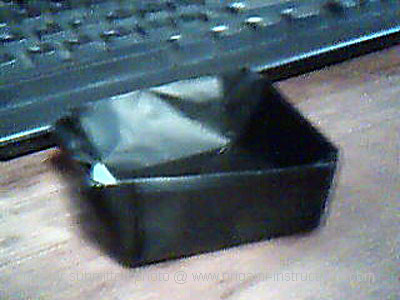 Thanks to Angela from Harrisburg - " This was fun, easy to create and was made with a post-it! they are great for origami (except for the sticky stuff so just use old ones)!"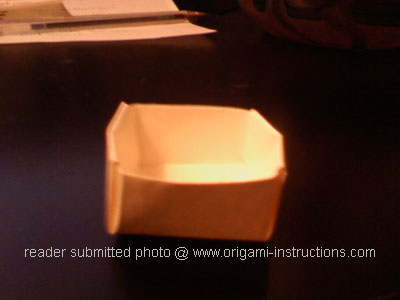 Thanks to a reader for these large origami boxes: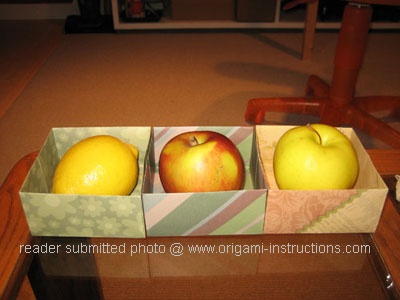 Reader from Greenwich " Great job! Creating the sides of the box was a little hard to figure out, but once you do it, it's pretty easy! Thanks so much!"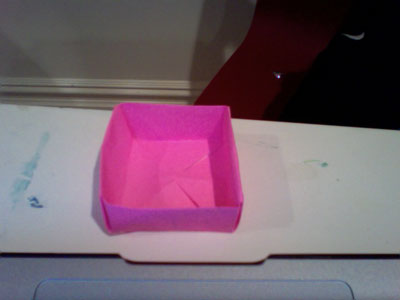 Miss Smith from Nelson, New Zealand: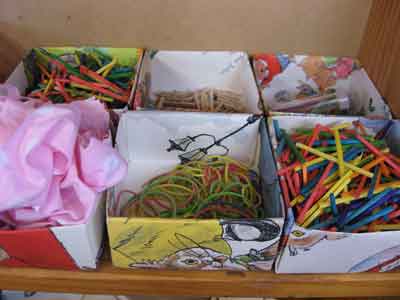 From Holly in Cedar Park "For some of my small gifts that I made this year with nothing to put them in, it was simple, easy, fun, and cute to make! Absolutely love the origami Box!! PS- what I did was used a slightly smaller square paper for the bottom part of the box, same folds and everything, and a slightly larger square for the top!"
Great idea, Holly! We do have instructions on how to fold an origami box with cover.
From reader in Winnipeg: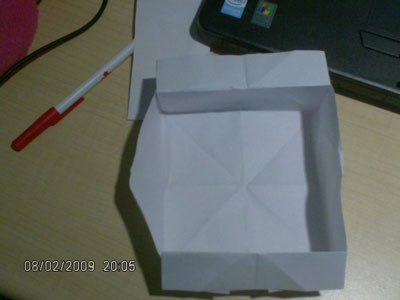 From Joe in Toronto "This is my version of the Origami Box. I was supposed to be studying, but I found something to do to procrastinate, and this was it. This was my first attempt, and a great attempt I thought, I'm going to make thousands of these now! Thanks a bunch!"
Hey, a lot of people seem to be folding origami when they're supposed to be studying, working or in class! Joe, it's great you're folding origami but try not to do it when you're supposed to be studying, ok?! :)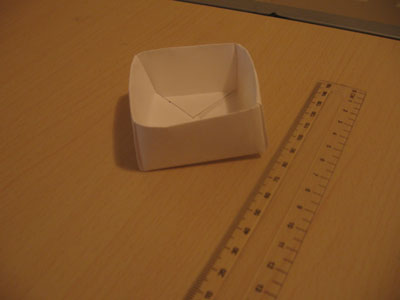 From Hollie of Whitley City: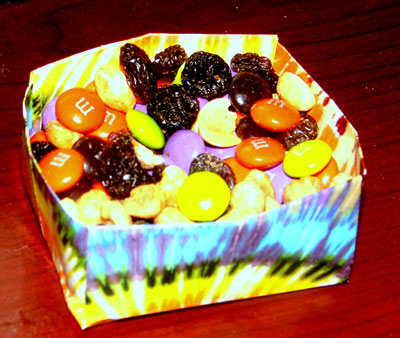 From Giselle of Brighton: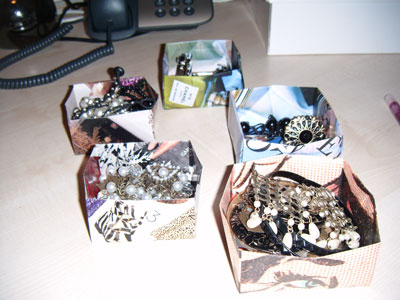 From Charles in Tokyo "A origami box I made. Thank you".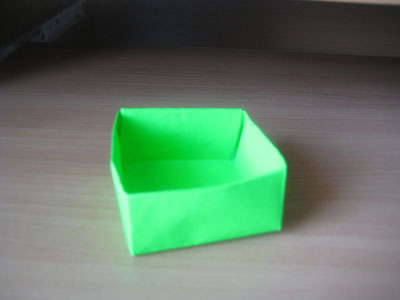 From Robert in Tacoma " I found this very entertaining and useful. I needed something to start my tomato plants in so I used your instructions, and added function and form to the art. I made 60 boxes in all, 15 for each of four varieties of tomatoes. Thanks again for the instructions. I hope this picture is acceptable, I could not get them all into a close-up, and they are in a terrarium made from a converted fish tank."
Robert - Thanks for the photo and info! You really put the origami box to good use! Since you're a gardener, if you're looking for something to store seeds, the origami coin purse can actually be used for that. If you fold both flaps to one side only, the coin purse is closed and your seeds will not fall out!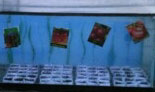 From JunWBrowden in Penang "This is the first attempt box I folded :]"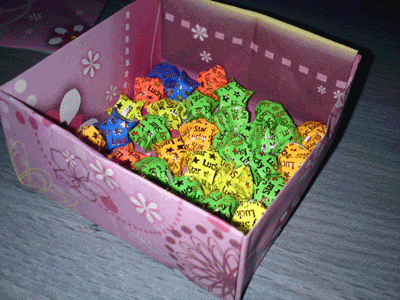 From Emmanuel in Kirkland Excellent instructions and photos here made this easy. My daughter decorated the paper ahead of time with a grid, I like how it looks."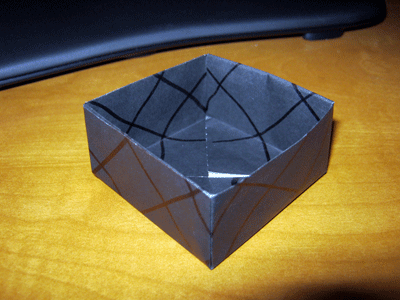 From Imre in Noord-Brabant the Netherlands "This was easy and quick to make it's even practical i use it to store my dog tag at night."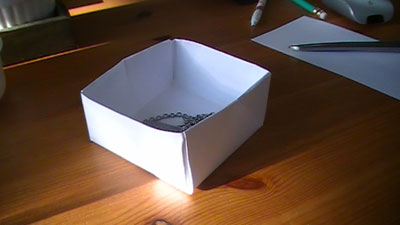 From reader in Manila: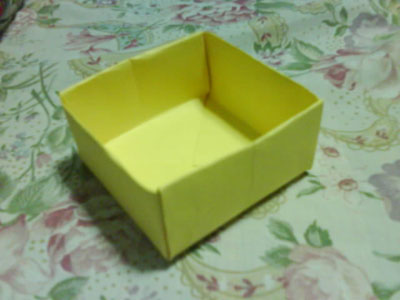 From reader in Tijuana "Made with a post-it!"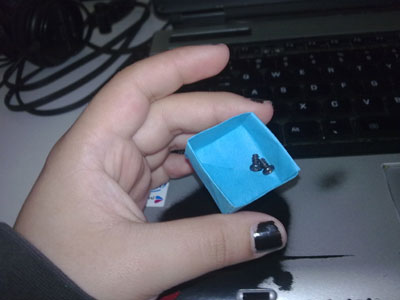 From reader in Holland: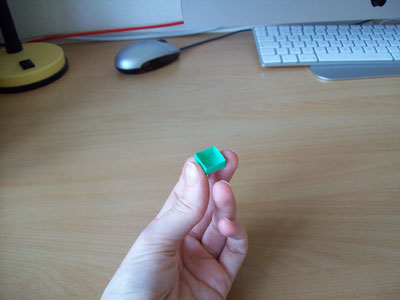 From Crysta in Minneapolis " You know, the funny thing is is that when I first tried this it took me forever but now that I can do it, it seems really simple. "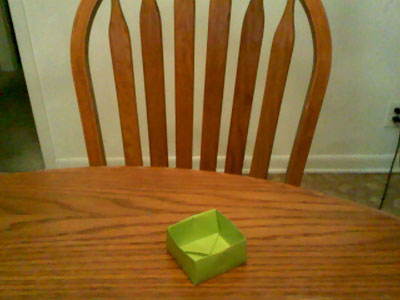 From Amani in Abu Dhabi " These are two origami boxes i made using my colored post-its at the office where i am going through my internship, they're the small size so i had to tape a few together to get a proper sized origami paper, the small box took me 4 papers, and the bigger one took 9. I like the patched-up result I ended up with! There wasn't much to do at the office at 8:00 AM when no one is there yet. --_--; "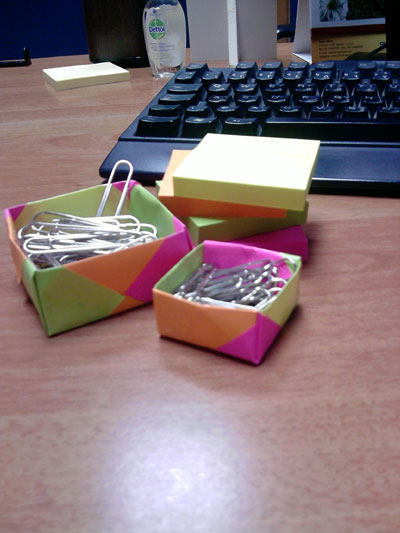 From Alen in Croatia "Hi, here's my origami box :)"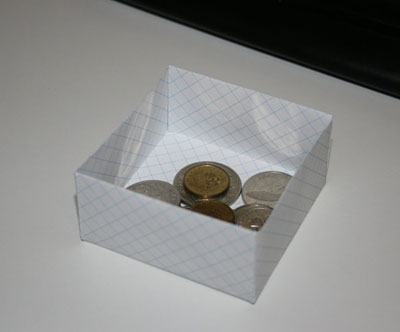 From Aaron in Jerusalem " Just wanted to thank you for the site. My six year old daughter and I spent a really enjoyable morning do Origami - the photo shows our work. I was impressed with how much she was able to do on her own. "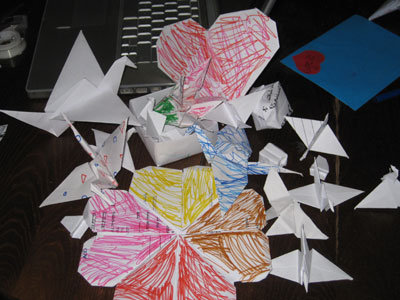 From Sunee in Sydney: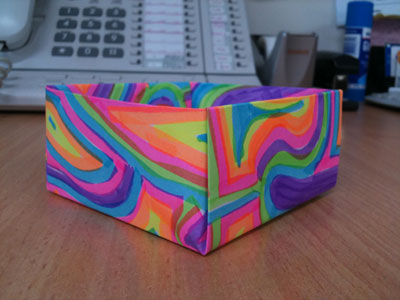 From Rhoe in Townsville: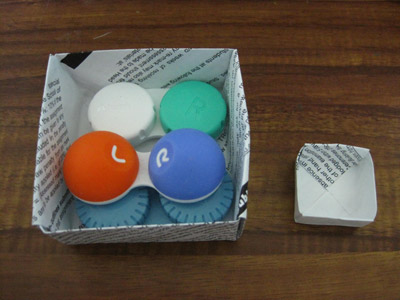 From reader in Miami, OK: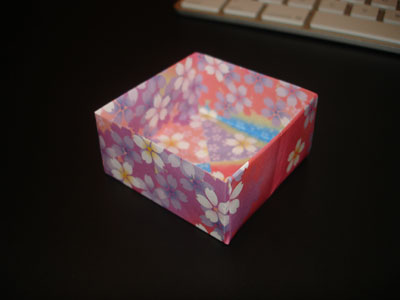 From Geoff in Fort Smith " This is my origami box, with a slight modification. I added in the collapsed pyramid fold from a paper flower. "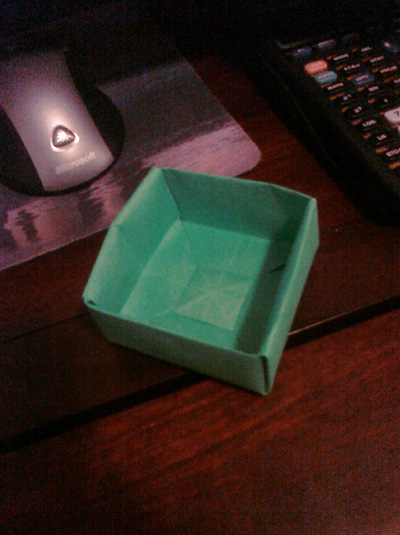 From Robert in Cardiff " A great place to store my guitar pics (which i am brilliant at losing.) Its made out of recycled sheet music. "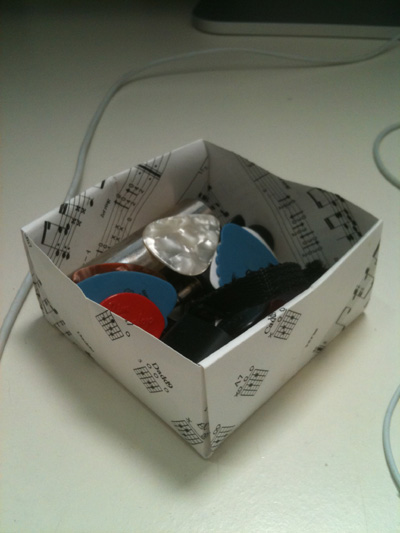 From Orion in Kuala Lumpur " origami box i've just made "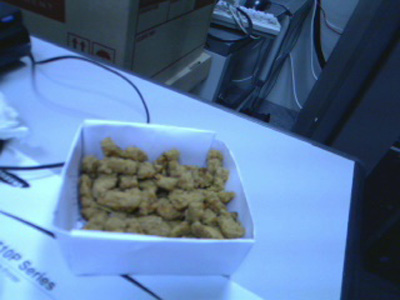 From Samantha in Virginia Beach " I took the square shaped comics from the newspaper and made it into a box. I folded and cut a piece of cardstock paper (8.5" x 11")and put it into the bottom of it to make the bottom more sturdy. I had to adjust the sides a little for it to be a square. I put clear tape on it and now its so pretty. I love it. "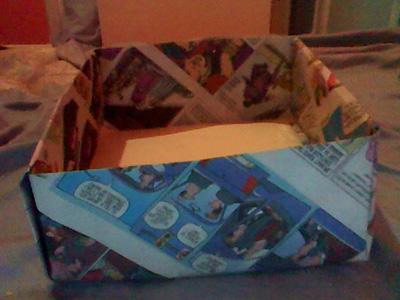 From Charlotte in New York City " This is the simple origami box. I made this. "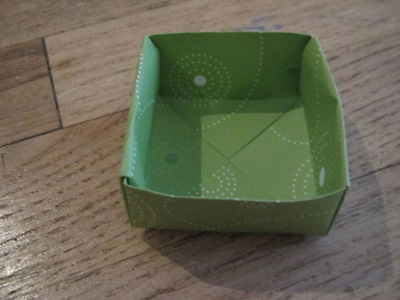 From reader in Atlanta " This box was made of trash paper that we architects love so much. I made this for a co-worker who helped me with a project. The ties around the drinks were made of tissue paper as well. I love the box!!! "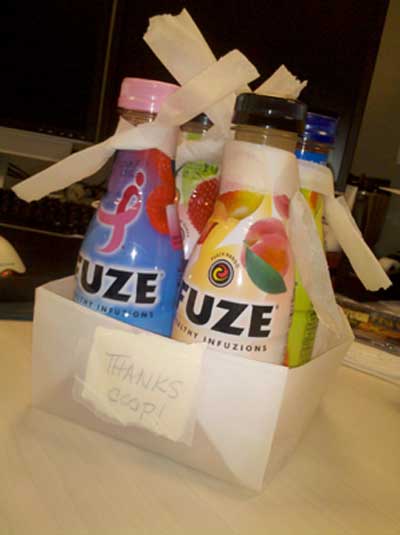 From Lorelei in Commerce TX "It was simple! I was bored at work and trying to think of something to do and make my friend for her birthday and now I can make a cool box! Great instructions and easy to follow! "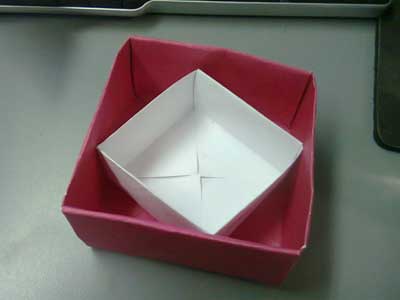 From reader in the Everglades " My first origami box. Thanks for the great instructions and video! "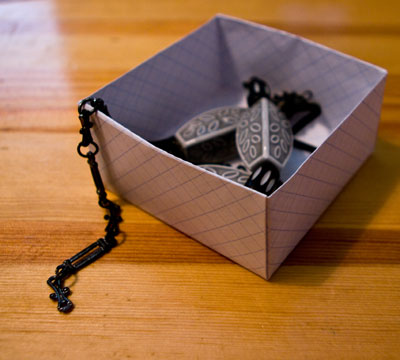 From Rashmi in Nagpur "Origami Box"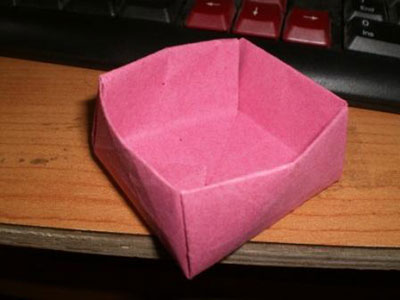 From Jim in Verona " This tray is actually a simple variation of the traditional masu box! Instead of starting with a square, you start with a rhombus, and do all the SAME folds. Close the short sides last. (To make the rhombus, fold the opposite corners of a rectangle together, and cut off the two triangular areas that are just one layer.) I used an 8.5 x 11 inch sheet of card stock, which makes a tray 3.5 inches long. The photo shows two trays and one rhombus. "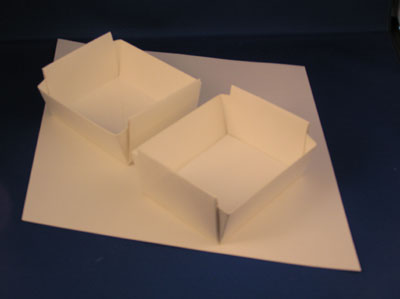 From reader in Rome " This is my origami frog and box for easter.I got nice origami paper too.GO ORIGAMI! ":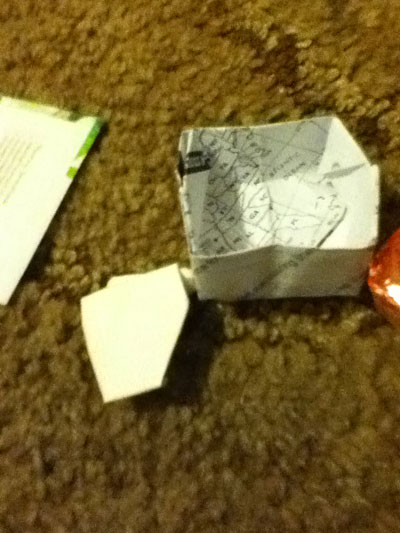 From Ash in Santa Ana " Box Origami My First Origami! "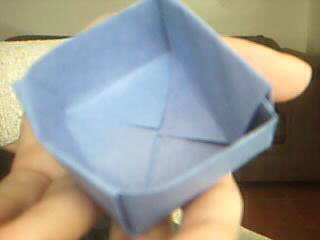 From Aaron in California " Box with cover made out of standard sized Post-It notes. What a practical solution to my boredom at work! "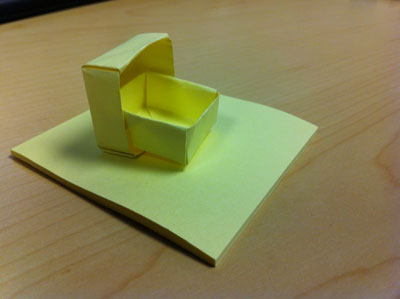 From Katelyn in Calgary " This is a box i made to hold erasers! "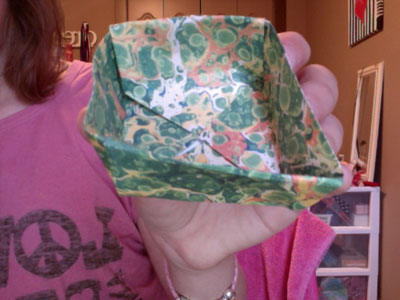 From reader in Poway: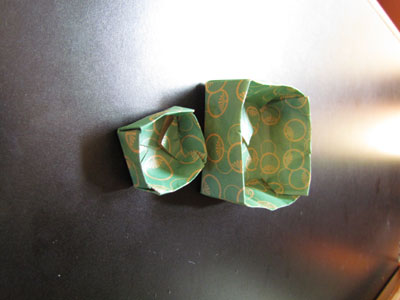 From Meagan in Florence " My origami box!! It was "Pika-Proved!!" "
From reader in New York " its very nice. "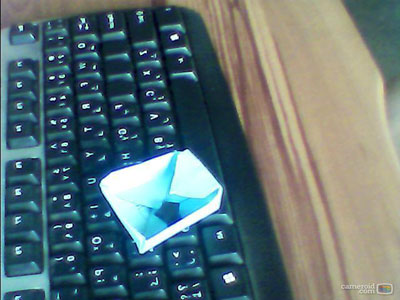 From Kate in Boston " I made this one out of a post-it note that i decorated its a 1/2 inch across and it is very sturdy for my first try!! "
From reader in Mexico City:
Love how you decorated the paper!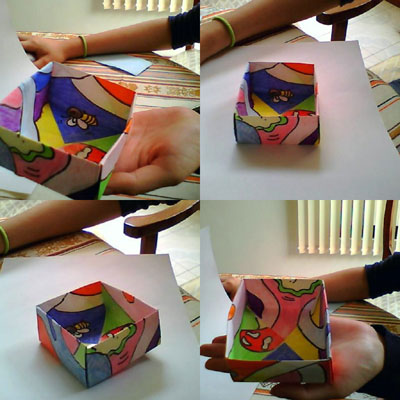 From Mary in Sydney " This is the first origami box i've done on this website. LOL, i love this website. it's tiny as, it fits on this fairy on the end of my pencil i got last year! it took so much blu tack to stick it on though, there goes my lifetime supply of blu tack."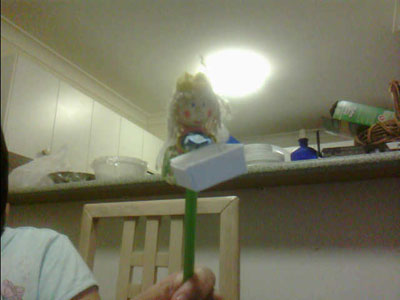 From reader in Clearfield " this is made out of plain paper.it is a box. "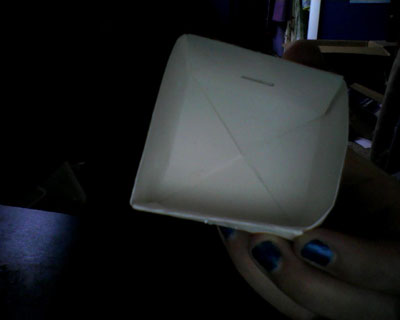 From Eddie in Blackwood: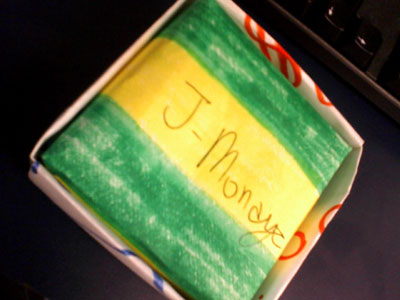 From Eddie in Blackwood: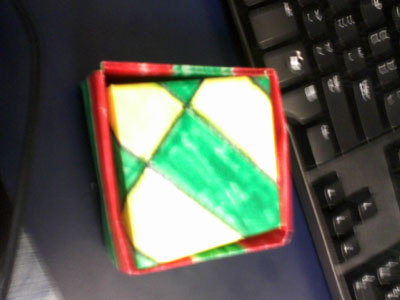 From Emi in Brighton " I'm submitting origami box photo. I made the boxes with stiffened fabrics (yes, fabrics!) "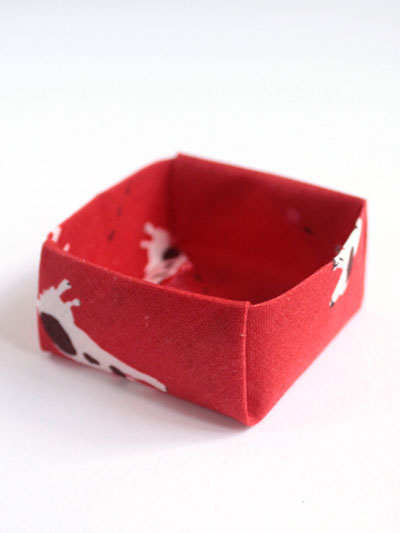 Did you make this origami? If so, upload your photo (2MB limit) via the comment box below. You can login with your Facebook, Twitter, Google or Yahoo accounts.